As seen on
PumpkinKnits
:
Top Five for 2005:1. New Technique:
Cabling without a cable needle takes the top spot because I love cables. More cables, please! Knitting backward gets and honorable mention because it is very useful in some cases.
2. Favorite Finished Object:
Very hard for me to pick because I loved at lot of the things I made this year. Let's call it a tie between
Grace
and
Berkshire Breeze
. (But
Tivoli
and
Lady Eleanor
and
Peacock Feathers
and the
Reversible Rib Shawl
were wonderful, too!)
3. Favorite Knit Along:
Cable KAL
. More cables, please!
4. Favorite Shop:
Locally, it's
Yarns to Ewe
. Cyberly, it's whatever-store-has-the-yarn-I-want-on-sale-right-now.
5: Favorite Tool:
My
blocking board
. Love those straight lines with all the inches marked. An anal knitter's dream.
Resolutions for 2006
(I never made any sort of resolutions before. Knitty ones seem like a good place to start.)
1. Install a zipper into a knitted garment.
(I think the first victim will be Marnie MacLean's
Dragon Hoodie
.)
2. Knit a fair-isle sweater with steeks.
I must conquer this fear.
3. Knit more for others.
I no longer have place to store the things that I have knitted for myself. I just enjoy knitting for myself too much.
4. Practice budget knitting.
I'm probably going to quit my job soon and start up a freelancing business. Peter will not be a full-fledged lawyer until the fall. I will need to learn to curb my spending during our leaner months.
5. Build knitting clientele.
Assuming my freelance writing doesn't keep me too busy, I'm want to do more "business" knitting. This fits in well with resolutions 3 and 4.
Meanwhile: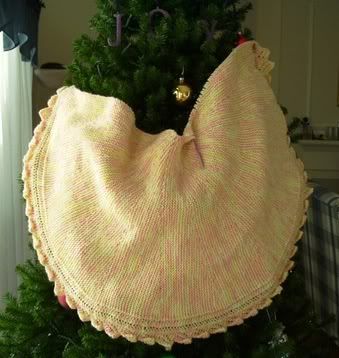 Pinwheel Afghan continues to grow. Here it is with 11.75 wedges out of 16 wedges completed. It has gotten to the point where lugging it around is difficult and I have declared it "couch knitting" until it is completed. I'm heading to the in-laws this weekend and will hopefully finish it there. (Assuming that I'm not distracted by Rogue very much.)
Do you see that dark blob behind the tree, just above the top left corner of the blanket? That's Elly sleeping in her cat tree.