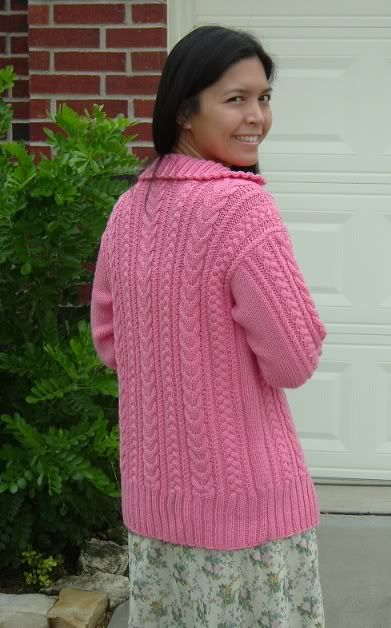 (unusually large photo, I know)
Pattern: Grace from Debbie Bliss Cotton Angora book, size small
Yarn: Karabella Aurora 8 in color 25, 100% merino wool, 16 balls (and only one knot!)
Needles: US sizes 7 and 8
Modifications: Did a three-needle bind off for the shoulder seams. Didn't bind off the back neck stitches so that I could knit the collar on directly without picking up stitches or otherwise creating a seam. (However, I did have to pick up one stitch at each shoulder seam to close up holes and to make the ribbing work out properly.)
Comments: I love this sweater. Love it! Why?
1. The fit is exactly what I wanted. It's relatively close-fitting, enough room for a short-sleeved shirt underneath.
2. The sleeves come down just past my wrists so I don't have to fold up the cuffs.
3. The yarn is perfect for this sweater. It holds the cables and the ribbing perfectly and the sweater is relatively light for the amount of yarn that's in it. I think the cotton angora would not have shown the cables well and would have been heavier and would have stretched over time. The yarn is also soft enough to wear next to the skin.
4. It's the sweater I've always dreamed about: cardigan, cables, not over-sized
5. It's pink!