Yes, I know you all were expecting the Rebecca sweater. But it's not here yet. Wednesday afternoon, at the same moment that I discovered that the latest issue of Magknits was up, I was stricken by a very unusual case of knitting ADHD. I put down my nearly finished Rebecca sweater to cast on for Tivoli.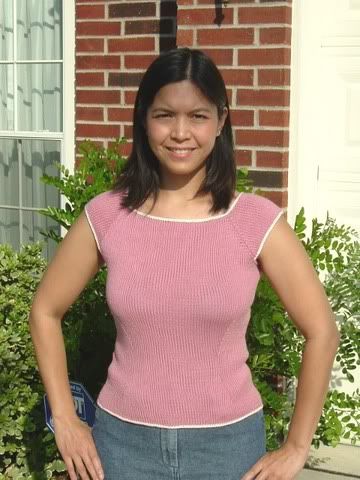 Pattern:
Picovoli
(Tivoli) by
Grumperina
, 32 inch size
Yarn:
Debbie Bliss Cathay in pink (color 12009) and ivory (color 12002)
Needles:
US size 5
Time to knit:
4 days
My personal touch:
Single crochet "piping" on all edges in a contrasting color.
Cat:
Elly (see photo below)
Other thoughts:
I really love the picot edging that Kathy added to this pattern for Magknits. However, I had been planning the contrasting edging for some time now that I wanted to do it my way first. If I make the sweater again, I will do the picots.
Less squinty, indoor photo: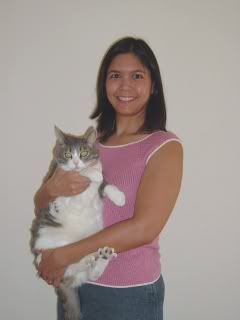 By the way, the Rebecca sweater is finished, too. However, the crochet edging needed a bit of taming so the sweater is now pinned to my blocking board with soaking wet edgings.