I'm feeling better now. In fact, over the weekend, I felt good enough to sit down and read the directions for Rogue and cast on for the sweater. So here's "before" photo of the Cestari fabric, taken after the "after" photo was taken. See? Nice stitch definition in the washed-out photo.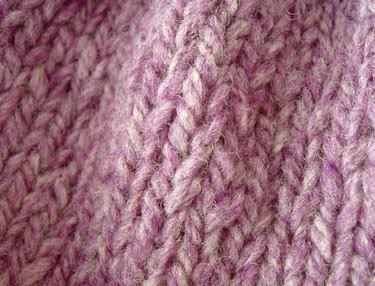 In the comments for the last entry,
Karma
asked what detergent I used to wash my purple sheepies. I used
Ivory Snow
--a supposedly gentle detergent. I'm sure that Ivory Snow is more gentle than the
Tide HE
that I use for normal loads, but I'm not certain how it compares to something like
Kookaburra
or
Eucalan
. However, I have used Ivory Snow for washing many knitted garments with no adverse effects. In fact, I have MACHINE washed several knitted garments, even nonsuperwash woolen garments, on gentle cycle in my fabulous front-loader with no adverse effects. So, the fact that I washed my swatch by using the regular cycle was very stupid of me.
Cordelia
asked what about
Woolite
that makes it special. Honestly, I don't know. I looked at my bottle of Woolite, and it doesn't list the ingredients so I don't know if it is a soap or a detergent. (My guess is that it is some sort of detergent or detergent mixture.) I have been told that Woolite really isn't that s'wonderful, but I have yet to read any concrete proof of that.
Also in the comments,
Agnes
asked if the yarn is itchy. The short answer is yes. The long answer is very long:
The washed swatch is a little more itchy than Cascade 220 and a little less itchy than Lamb's Pride. This is NOT bunny yarn. It is not Aurora 8 or Cashmerino. I wouldn't want to wear it in a skin-tight sweater, I think it will be fine next to the skin in a looser-fitting sweater. To be honest, I'm surprised at the lack of itchiness in this yarn. I expected a high itch-factor when I ordered it.
I actually put a lot of thought into buying this yarn and I was willing to sacrifice softness for other qualities that I wanted. When I look at Rogue, I see a very rugged sweater. The kind of sweater that you would wear hiking in the woods. Cestari looks rugged. So, (I thought) if I was wearing the sweater to go hiking, it had to be very durable. Cestari
claims to be durable
. Because the sweater was going to get a work out from all that hiking, it had to be machine washable. Cestari is superwash. Finally, I couldn't ever imagine wearing Rogue without something on underneath. It looks like a sweatshirt to me. I intend to wear it like a sweatshirt. As a result, softness was not high on the priority list when I was selecting this yarn.
Things to know before rushing out to buy this stuff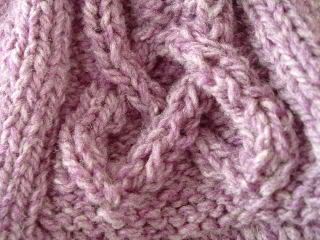 * Cestari feels oily or waxy when knitting. I believe this texture exists because the wool is not overly processed and it still has a lot of lanolin in it.
* Cestari yarn feels stiff coming from the skein and the fabric produced is very stiff. However the stiffness goes away when washed.
* Cestari contains a lot of vegetable matter (i.e. pieces of grass). The vegetable matter can be picked out easily, if you wish.
* Ordering directly from Chester Farms can be an adventure. I suggest calling them rather than using their online order form. (However, the toll-free number did not work for me.)
* Cestari is a bargain: 210 yards, worsted weight, 100% superwash wool for $5.99