I finished the back of Peter's sweater over the weekend. I wasn't sure I was going to post photos, but the sun finally came out this morning, which provided some lovely low-angled light in which to properly photograph the cable pattern. I touched up the photos using my new photo-editing software. The software is called
Picasa
and it is currently available free from Google. It works pretty well. As far as I can tell, it can't do fancy stuff, such as making people skinnier, but it's good for adjusting color, adjusting contrast, and all the other basic stuff.
In the next two photos, I used Picasa to adjust the color (the sunlight and my cheap-o camera washed out the color) and strengthen the contrast (to really show off the cables). So, here's the back: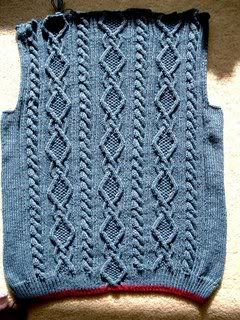 And here's a close up of the cable pattern: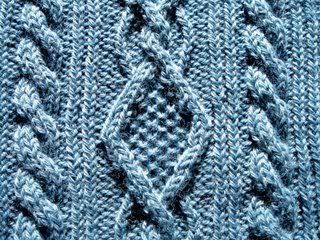 Shawl Update:
I finished the 4th ball of yarn. The shawl is now 45 inches long!