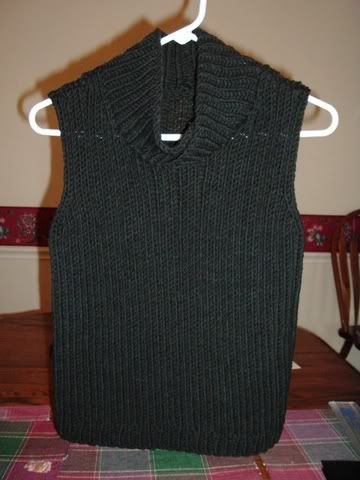 Pattern:
With-a-Twist Turtleneck from
The Purl Stitch
, size small
Yarn:
ggh Goa in black
Needles:
US sizes 9 and 10.5
Recipient:
A real paying customer!
Modifications:
I lengthened the torso by an inch because the customer said that she "didn't want her belly showing." I wouldn't want my belly showing either. And of course, I did a 3-needle bind off on the shoulder seams.
Comments:
A straight-forward knit, except for the collar. The collar is a mobius that is knit flat and sewn together in a loop. Then, the collar is sewn onto the neckline. Sewing a curvy, twisty collar on a flat neckline is not easy or intuitive. I futzed with it quite a bit and redid it a couple of times before I decided to call it done. Sorry for the bad photos, black is not easy to photograph--even with a flash!