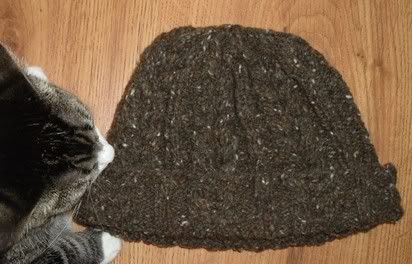 Pattern:
Age of Aquarius Cap from
Knitter's Stash
Yarn:
Queensland Collection Kathmandu Aran (85% merino, 10% silk, 5% cashmere)
Needles:
US sizes 7 and 9
Recipient:
Dad
Cat:
Scout (who else?)
Comments:1.
The photo above shows the color of the cap fairly accurately but the cables are more clearly seen in
this washed out photo
. The yarn is not the type of yarn that I would normally choose for a cabled project. The tweedy-ness and lumpy-ness sort of mask the nice cabling. However, I thought the rustic nature of the yarn make the hat more manly and therefore more appropriate for a Dad hat.
2.
The feature that I like most about this hat is how the cable pattern appears both on the fold-up brim of the hat and on the crown of the hat. To do this, the hat was turned inside out after working the brim and a slightly different cable pattern was worked on the crown.
3.
The hat seems rather large to me. The finished circumference is 22 inches (exactly what the pattern says), but it is huge on me. However, Dad has an unusually large head--literally, not figuratively--so maybe the hat will be fine on him. Just to be safe, I'm not cutting the tail inside the hat. If it's too big for Dad, I'll ask him to send it back and I will frog and reknit it. If it fits fine, I'll ask Mom to cut the tail.
RIP Richard Smalley
Sadly,
Richard Smalley
died last week. Dr. Smalley is of course best known for being one of the co-discoverers of Buckminsterfullerene, aka BuckyBalls, aka C60. Dr. Smalley was one of my chemistry heroes and actually played an important part in my life. If it hadn't been for him and his BuckyBalls, I may have never meet Peter.
When I was applying to chemistry graduate schools, I became so enthralled by BuckyBalls, that I applied to Rice University with dreams of working with Dr. Smalley himself. After I was accepted at Rice, I visited the campus during their chem grad student recruitment weekend. During that weekend, accepted graduate students from around the country spent three days meeting with the Rice faculty and grad students. Peter was also visiting Rice that weekend. We had lunch together. We met with Dr. Smalley together. But neither of us decided to go to Rice.
Instead, both Peter and I enrolled at the University of Chicago. We recognized each other from the Rice weekend and started talking. Neither of us knew any of the other grad students, so it was nice to see someone familiar. Even if it was someone only vaguely familiar. And that's how Nobel Laureate Richard Smalley brought Peter and I together.