Let me start by saying that some of these projects have been going on for some time now. I did not knit all of these in one week. (Though, I did knit some of these in one day.)
FO timeline

Thursday, December 1st:
Berkshire Breeze
Friday, December 2nd:
IK Heart Sachets from yarn left over from my
socks
.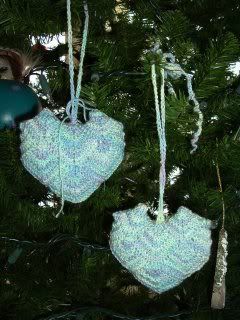 Sunday, December 4th:
Lady Eleanor
and another Instant Gratification Scarf. The scarf is for a colleague.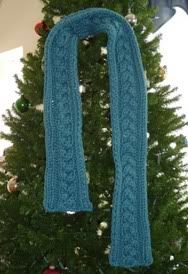 Monday, December 5th:
Santa Hat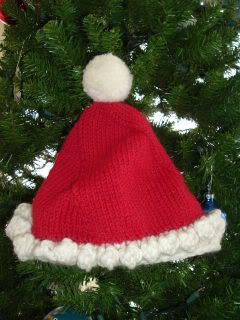 Santa Hat specs:
Pattern from
Handknit Holidays
knit with Encore Chunky in red and Rowan Big Wool in white-ish.
I saw this hat at a
LYS
knit in the recommended yarns. The pattern calls for some
Blue Sky yarns
, that would have cost me about $50 at the LYS. That wasn't going to happen. It's a SANTA hat! It will only have a couple weeks of use each year. I was even reluctant to use the Rowan, but I didn't have much choice for super bulky white yarns.
As you can see, Christmas trees (or "holiday trees" if you prefer) are great for holding up handknit items. All those spiky needles grab the knitting and keep the knitting in place. Hanging my knitting on the tree reminds of the Christmas trees in the Little House on the Prairie books. In those books, Laura Ingalls Wilder writes that the presents were actually hung on the tree itself and not placed under the tree. Can you image someone trying to hang an X-box or a bicycle on a Christmas tree?
What's that you say? You want to see the hat on me?
Ok
.