After three days of finishing work and a last minute trip to Michael's to buy ribbon, I finally have my first adult-sized cardigan.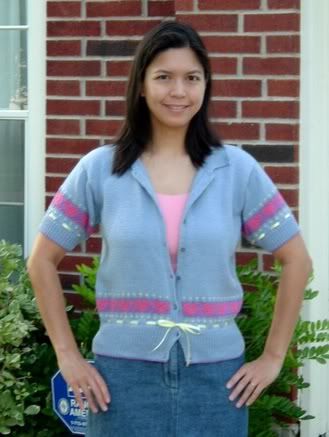 Pattern:
Moni from Rowan 31
Yarn:
Rowan 4-ply Cotton in Violet (MC), Flirty, Cheeky, Aegean, and Lemongrass (CCs) from
Richesse Online
(A very special thanks to Wendy at Richesse for her assistance picking colors.)
Needles:
US sizes 1 and 2
Additional Notions:
Narrow ribbon, 8 tiny buttons, and
invisible elastic thread
.
Alterations:
I made body about 1 inch longer because the swatch shrunk when washed and I didn't want this to turn into a belly-baring sweater.
New Technique Used:
Sewn on button band.
What I would change if I had to do it again:
I probably wouldn't put the ribbon in. I wasn't sure if I would use the ribbon when I started, but I thought that the eyelets wouldn't show if I decided not to include the ribbon at the end. But the eyelets show. So the ribbon was added.
Close up of the fair isle, button band, and cute little buttons: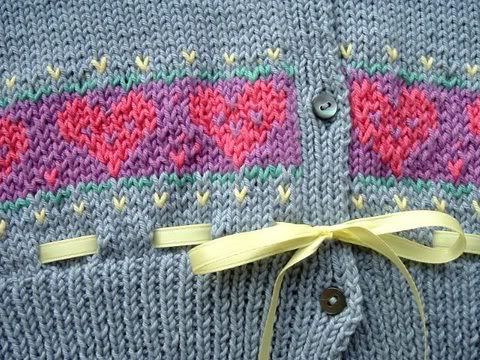 Close up of the wrong side. So neat and tidy! I'm fanatical about weaving the carried yarn because I hate floats.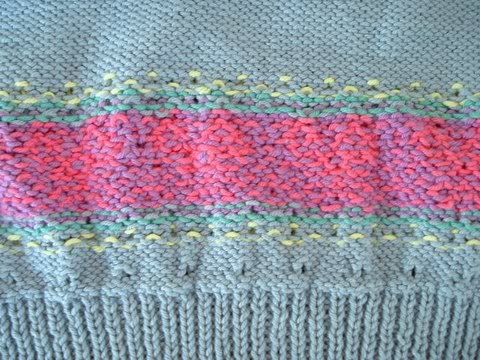 On a sad note:
My freebie digital camera seems to be dying. The flash doesn't work anymore. Hence, the above photos are a bit blurry. I guess I have to start hunting for a new one.