THANK YOU everyone for your comments. I feel loved now. I also feel a little guilty for begging for comments...but only a little. For those of you who commented about being fearful of entrelac: it isn't that bad. I was a little nervous at first, but I followed the directions no matter how strange they seemed and it worked out just fine.
Now on to part 2 of my instant gratification: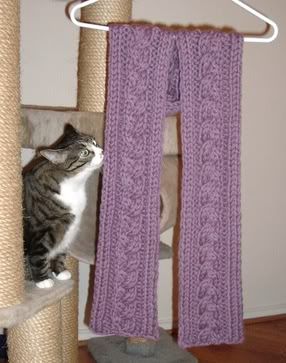 I'm calling this my Instant Gratification Scarf. I cast-on on Monday night (while passing out Halloween candy) and cast-off Tuesday night after my SnB. The scarf is a sample scarf that I knit up for a class that I will be teaching at a LYS. It's a cabled scarf knit in Rowan Big Wool. I made up the pattern to include selvege stitches and right and left twisting cables. I'm marketing the class for newbie knitters to learn how to read a pattern with a chart and to learn how to do cable crossings. I wonder how it will go. I have never taught a knitting class before, nor have I taken one! At the end of the class I'll probably teach the brave ones how to cable without a cable needle.
Finally, a good word for Kollage Yarns
Remember when I
complained about trying to wind a hank of Kollage Passion
? Well, a couple days after I wrote that, I received an email from Susan at Kollage Yarns who happened to see what I wrote. She apologized profusely for my troubles and offered to send me some yarn to make up for it. (She also offered free ice cream for life, which I would have gladly taken over the yarn, but I didn't think she could really do that for me.) So, I told her that I was interested in trying some of their
Inspiration
yarn. Well, look what arrived in today's mail:
Presents for us?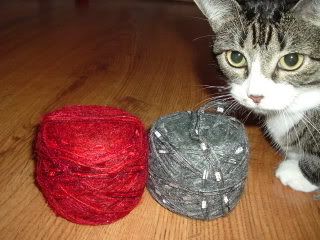 Shiny yarn!
Yes, it's two hanks of Inspiration already wound in center-pull balls!!! How amazing is that? What great customer service! Thank you so much, Susan!