Seems like only a week ago that I was complaining about knitting a gigantic lace shawl....I take it ALL back. The work was totally worth it.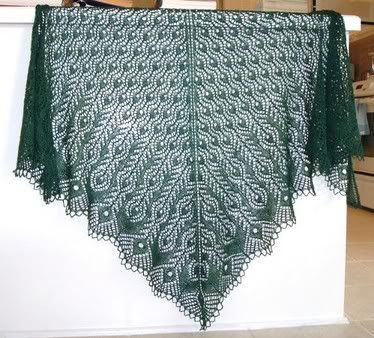 Pattern:
Peacock Feathers Shawl
from Fiddlesticks Knitting
Yarn:
Jaggerspun Zephyr
in peacock green, courtesy of
Monkee
Needles:
US size 3
Final Dimensions:
81" wide, 41" tall
What I learned:
Blocking lace is magic!
Lots More Photos:
See my
finished object gallery
!
The bad part about finishing this shawl is that I had to lie to my mother. I don't want her to know that I finished the shawl because she will expect to see photos. I don't want to send her photos because I just want to send her the shawl! So when she asked if I was done, I flat out lied and said that I wasn't and that it wouldn't be finished for a week. I'm so bad.
Blocking Photos: