Work has hit the oh-no-we're-not-going-to-finish-on-time phase of our production schedule. We always get to this point when there is about a month left in the schedule. I almost think that we should make a column on the schedule for when the production manager freaks out.
So, I've been knitting as much as I can, but blogging less. I just noticed that I haven't updated my sidebar to reflect what I'm really doing now and I don't remember the last time that I added blogs to my blogroll. Someday I'll take care of that. But today is all about photos.
Finished Fancy Scarves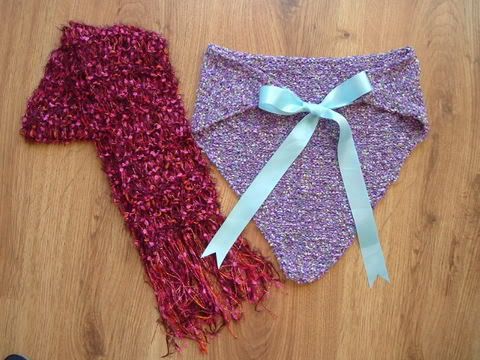 Patterns:
out of my own little head
Yarn:
Kollage Yarns, the red one is Passion and the purple one is Romance
Recipient:
A customer
Notes:
I wish I had used a bigger needle with the purple one. It's a bit on the small side as a shawl/scarf. I thought it would be a nightmare to frog, so I just continued what I was doing. I added the ribbon to it to dress it up a bit and to help it stay on a person's shoulders. As it turned out, the "shawlette" is the perfect size for the customer's daughter.
Started the Dad Hat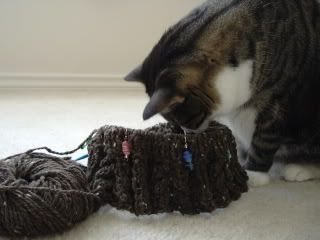 "What's this?" asks Scout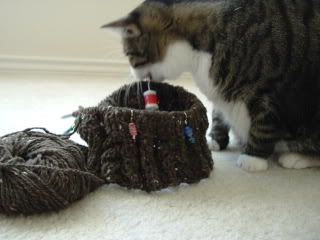 "Oh, it has a handle"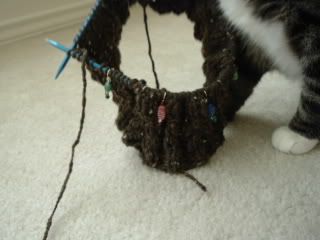 "Thanks for the toy Mom!"
I'm making a cabled hat out of Katmandu Aran. Though the yarn is very soft it contains an amazing amount of plant fibers (i.e dead grass) that I'm constantly having to pick out. I usually don't mind plant fibers in wool, but this seems to have a ton. This is the first chance I had to use the pretty stitch markers that
Helen
made and sent to me. Thanks again Helen!
Finished the Super Secret Project
But no photos until after the winter holidays!