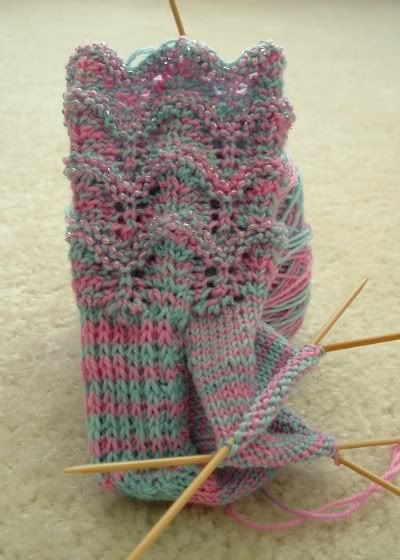 1. When the first line of a pattern is "string 450 glass beads onto yarn," don't expect to have too much fun.
Stringing the beads was a pain. Pushing the beads down the yarn as I knit was more of a pain.
2. When a pattern specifies a certain bead size and the store doesn't carry that bead size, buying a different size believing that it is "close enough" is not a good idea.
I had trouble stringing my beads and I think the beads look a little small on the sock. Also, some of the beads like to shift places.
3. When a you have pretty beads that are clear with colored holes, don't expect that color to stay after pushing the beads down the yarn a lot.
I strung blue beads and pink beads on my yarn. The blue beads' color lined the holes of the beads. The pink beads were solid colored. I ended up knitting with clear beads and pink beads. The clear beads don't show up as well. I wonder if I should just string pink beads onto the second sock?
4. When you have yarn that is half blue and half pink, and you want it to appear more pink than blue, the yarn is going to appear more blue than pink.
The yarn is Lorna's Laces Baby Stripe courtesy of
Jennifer
. (Thanks Jennifer!) I was actually hoping that this yarn would pool into blue and pink blotches. No such luck. Perfect stripes.
5. When you think there is an error in the pattern, and you can't get an immediate response from the designer, just make something up.
There are a couple of errors in the heel instructions. The errors are probably quite obvious to any experienced sock knitter, and because of my
VAST experience
* with socks, I felt confident making up instructions for the heel. To be fair, the designer did send me the pattern corrections in a reasonable amount of time, but I was too impatient. I wanted an instant answer.
6. When a pattern says "knit until sock is 0.5 inches less than desired length," and you have no idea what the desired length is, ask for help on your blog.
Using
this size chart
, I'm guessing that SG's shoe size is 11 or 12. Using
this shoe size to foot size chart
, I'm estimating that SG's foot is 7 to 7.33 inches long. But how do I translate this information to a "desired length?" Should the sock be 7 inches long? 6.5 inches long? 6 inches long? Please help me!
* for those who don't know, my "vast experience" with socks is pretty much nonexistent.