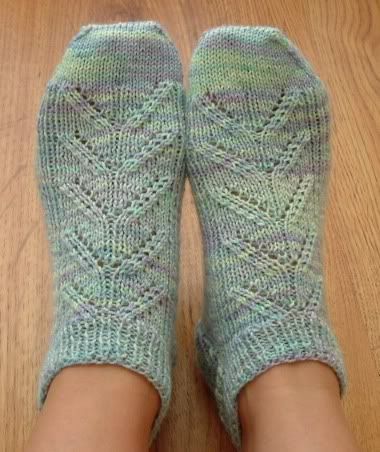 Pattern:
Padded Footlets from IK Summer 2005
Yarn:
Lorna's Laces Shepherd Sock, Georgetown colorway
Needles:
US size 1, circular
Modifications:
shortened length (see below), omitted contrast stripes
Time to knit:
1 week
Comments:
1. I have never been that interested in knitting socks because I don't wear socks that often. (Warm climate = sandals almost all year long) However, I do wear sock-like slippers at home constantly. So, I picked these socks because the padded soles made them seem like house socks to me.
2. The magic loop method wasn't a good choice for these socks because of the way the padding on the soles was worked. However, I didn't have DPN in the correct size, so I had to make the padding process even more fiddly than it already was.
3. Because these were my first pair of socks, I didn't think to compare the finished length of the sock to the length of my foot. I just saw that the pattern said, "fits women's shoe sizes 7-10," and went on my merry way. When I finished the last lace repeat on the instep, I put the sock on and realized that the pattern called for two more inches of sock and I only had about an inch off foot left. So, I had to do some quick calculations and toe-decrease adjustments to make a reasonable-sized sock. However, the socks are still a little
too big
for me.
5. I'm pretty darn proud of my grafting on the toe. I'm very, very bad at grafting. But
lookie!
I did it on my first try!
4. While I think the socks are cute and are comfortable, I'm not so bowled over by them that I feel like I NEED to have more hand-knit socks. They certainly aren't the most s'wonderful s'marvelous socks that I've ever worn. So, I still don't see the allure of making my own socks. Maybe I'm not excited because the socks aren't pink or red and they don't have cables on them. However, I'm not inclined to test this theory. That would require knitting another pair of socks.