Scared
I want to design my own sweater. From scratch. I have a mental image of my sweater. I have yarn for my sweater. Now, all I need is a little more courage.
I've read the sweater-design sections from a few general knitting books and I think I've made myself even more scared than before. One book said not to invest too much money in a first design. Too late! I bought angora yarn. The same book suggested starting a sweater constructed with stockinette rectangles. No! I want something better fitting that has some lace. Another book warned of the difficulty of working set-in sleeves. Oops! That's exactly what I want.
Now, I'm not normally frightened by challenging knitting projects, but I am quite concerned about the design process. I'm waiting for
Sweater Design in Plain English
to arrive from Amazon and I'm hoping that the book will have enough information to make me comfortable starting my sweater. Meanwhile, swatching is happening at a furious pace.
Giddy
I'm teaching my first knitting class this weekend. I'm excited even though I have no idea how it will go. I'd better write up a lesson plan before Saturday. Now if I could only make a career out of doing knitterly things, I'd quit my job in a heartbeat.
Annoyed
Remember how
happy I was using Karaoke
for Lady Eleanor? I'm not so happy now.* I'm on my sixth ball of yarn and have found knots in five of the balls used so far. Normally, I don't mind a knot or two in yarn, but five knots in six balls?? You're kidding me, right? I paid a pretty penny for this pretty yarn and I expect high quality for it. What's worse is that in balls #4 and #6, the knot was less than two yards from the inside end of the ball! Did the profit margin on this yarn truly depend on including those two yards?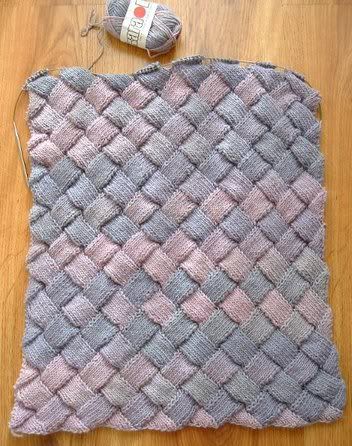 This photo was taken when I was about 1/2 way through the 5th ball (otherwise known as the ball that did NOT contain a knot). At the time the stole was 21 inches wide and 26 inches long, unstretched. I think blocking will make the stole about 24 inches wide, which would be perfect for me.
*Late breaking update: I'm happy again. SWTC is going to send me more yarn. They believe that yarn from the end of a run accidentally got balled and packed. They also indicated that they have not heard other serious knot complaints about Karaoke.