When I last talked about my secret knitting, several of you had the impression that it was my secret. It isn't. That is, I'm not designing anything. I am simply providing the hands and the needles for a designer. I will not be revealing the secret. The secret is hers and it will be revealed in due time. And when it is, I will let you know.
I reached the end of the secret knitting and I am shipping it off along with all the extra yarn *sob* today. The pretty, pretty silk was used for some I-cords and a bit of trim on the main part. (Fear not, designer! I pulled the I-cords away before Scout got to them.) The I-cords will be attached to the final piece, but the designer wants to attach them herself. I don't feel like I can show you any more of it. Believe me, this is a cute little piece.
Anyway, as sad as I am to see the pretty yarn go, I'm also happy to be back to my own knitting. Right before I got the call to knit the secret project, I ordered some yarn for
Rogue
! Look! It's not pink! Or red! And do you see that
thing sticking out of the end of the skein
? Believe it or not folks, that is the center end of the center-pull skein. No fishing around in the skeins for the ends. Now, why can't other companies be so kind? Would it really be that hard?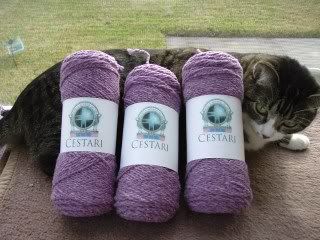 Oh yeah, it's
Cestari
2-ply wool. It is supposedly naturally superwash. I intend to test that. Swatching will commence
soon
today. Hopefully, Rogue won't require the size 8s that are currently in the baby blanket.