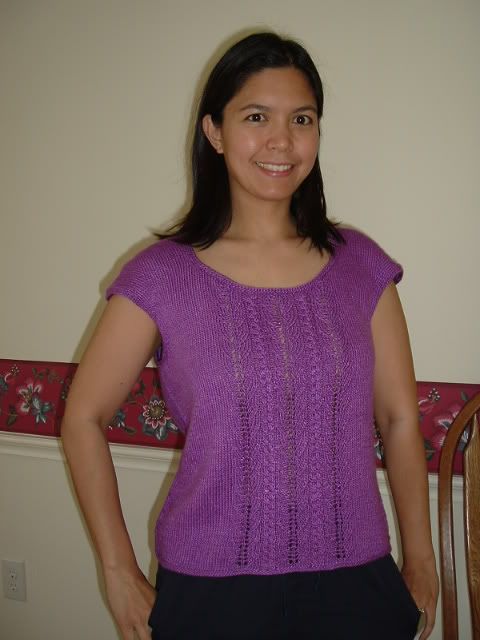 Apologies for the craptastic indoor photo. I thought
the light in the house was good. I would have more photos
taken, but my
photographer is grumpy right now.
Pattern: Cap-Sleeved Top from Debbie Bliss Pure Silk book, 3rd size
Yarn: Debbie Bliss Pure Silk, magenta, 7 hanks (pattern called for 8)
Needles: US sizes 3 and 5
Comments: Nice pattern with clever sleeve shaping. The little sleeves are worked by doing increases on the front and back pieces. The increases are lined up vertically (instead of added to the edges) creating a very nice looking fake seam. The increases also create a bias which allows the sleeves to curve over the shoulder. Though the pattern does not specifically say so, I used right-leaning increases on the right side and left-leaning increases on the left side. If you make this sweater I suggest that you do so, too. Little details like that result in a more professional looking garment.

A Confession: One process in knitting that I hate is picking up stitches for necklines, etc. Not only do I hate the process, I'm a little afraid of it, too. The knitting books I've read always warn about not picking up too many or too few stitches. Then, they show awful photos of the consequences of picking up the wrong number of stitches.

So, I prefer to work patterns that tell me EXACTLY how many stitches to pick up. When I have the magic number, I pick up stitches, pull them out, pick them up again, pull them out again, etc. until I get the right number at the end. I'm completely anal about it. (However, I'm completely anal about most things in knitting so this isn't very different.) I followed my neurotic method when I picked up the stitches around the neckline of this sweater.

But something happened to me when I picked up the stitches for the armhole edging. I got tired. I picked up stitches on one side of the armhole and I was TWO stitches short. I looked at the 50-something stitches I had already picked up and said, "eh, close enough." What? Who took me away and replaced me with someone lazy? I continued to pick up stitches on the second half of the armhole and didn't even bother to count. Seriously, what's wrong with me? I knit the armhole edging, bound off, and it was perfect. On the second sleeve, I simply picked up stitches in the same ratio as I did on the first armhole, didn't count, and finished the edging. Again, perfect. Sigh. I hope this experience doesn't lead me down the dark side of overly relaxed knitting.