The other day, while I was cleaning my house, I found an envelope full of senior pictures. (Did you exchange senior pictures in high school, or was that a Midwestern thing?) Anyway, this discovery somewhat coincided with the start of the "remember the 80's?" thread on the Knittyboards. So, for some laughs look at the photos below.
Before I embarrass anyone else, here's a photo of me at the prom. Unfortunately, my hair blends in with my date's jacket, so you can't see how big my hair really is. Don't you just love late-80's prom fashion? (My mother made my dress.)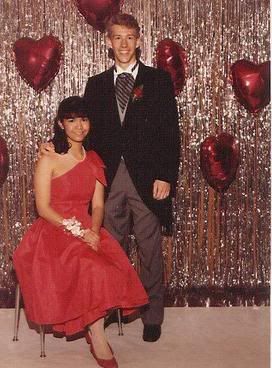 Now, let's look at some of my friends. If you know any of these people first tell them that I'm sorry and then tell them that I said hi.
Meet Mark. He's quite the fashion plate. Notice how his socks match his shirt which matches the stripes on his sweater? Looking good! Mark dressed like this all the time--very preppie! (I'll bet that his penny loafers have pennies in them.)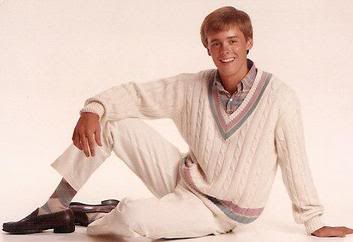 This is Steve. Ok, no big fashion gaffes here, but you gotta love the mullet. It was the hair style of choice for the non-preppie boys in my high school. (Years later, after Steve got a better hair style, he became
the recipient of my first knitted object
.)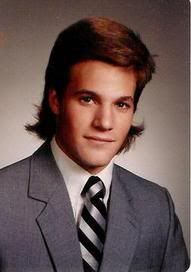 Christy is sporting a turquoise shirt-dress with a faux leather belt. The belt goes well with her barely visible white plastic earrings and white plastic beaded necklace. And she has tall hair.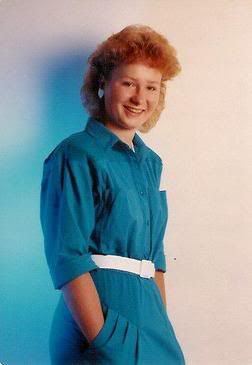 Holly, with her shoulder pads and shellacked hair, is ready for some football! I think that her heavy blue eye shadow is somewhat similar to the black streaks that football players put under their eyes.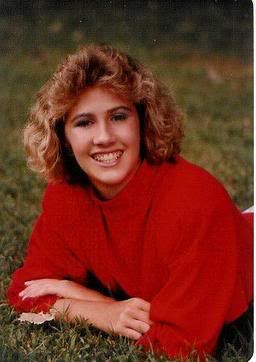 Mark, Steve, Christy, and Holly: I'm sorry. Please laugh. If you have a copy of my senior photo, send it to me and I will display it here. Oh, and Steve, don't tell me what happened to the sweater.