"What yarn?" That's what everyone wants to know. Well, it's bunny yarn. It even has bunnies on the label. How could I resist such temptation? Even Cleo can't resist the bunny yarn.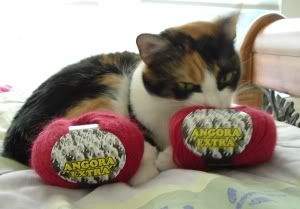 Cleo takes a big bite of bunny yarn and shakes it to kill as if it were an actual bunny.
Notice that Cleo's ear and the ball of yarn in her mouth are slightly blurry. I caught her just as she was going in for the kill. Naturally, the yarn was immediately taken away from her.
But I digress. The yarn is
Angora Extra by KFI
in a lovely dark red color. I was sorting through my sweaters (handknit and store bought) and I noticed that I had only one red sweater and a plethora of pink sweaters. How odd. Red is actually my favorite color, yet I haven't knit with it very much. Perhaps I have been trying too hard not to knit with red. So to make up for it, I decided to make a truly luscious red sweater.
Here's the back of my sweater lightly blocked. (Color is not even close to correct in this photo.) Although I spent much time swatching and doing calculations, I was still thrilled out of my little mind that the piece blocked to the correct measurements. Trust the math, Laura. It won't fail you.
So, this is your first real look at the design that's in my mind. What do you think? Is the lace and stockinette a bad combination? (There is a long story as to why I designed it like this, but that doesn't mean that it was a good idea in the end.) Be honest! I truly want to know before I start knitting the front.