The moment that my holiday knitting wrapped up, I started on two new projects. (Ok, I really started on one first and then started the other the next day.)
The first project is a bit of a secret, but you will see it eventually. I'm not sure when. It involves a heck of a lot of ribbing, thin yarn, and tiny needles. I'd go batty if the yarn wasn't so wonderful to work with: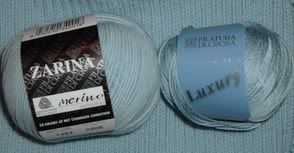 100% Merino and 100% silk. Mmmmmm! I haven't gotten to the silk bit yet, but I'm looking forward to it. The front of the work has some very clever shaping and I know it's going to be a cute piece when it is finished. Once it is out there in KnittingLand, I'm sure a ton of people will love it, but I'm not sure how many will actually knit it. All that ribbing combined with the thin yarn may be a bit off-putting for the knitters to which this design will appeal the most. However, it isn't as slow knitting up as I thought it would be. In four days, I have knit about half of the entire project.
My other project is a baby blanket for coworker Kelly's baby. This is the first blanket that I have knit for a baby whose gender is known in utero. Everyone else wants their baby's gender to be a surprise. So, I finally get to knit a blanket with girly colors. I hope the Kelly's doctor read the ultrasound correctly.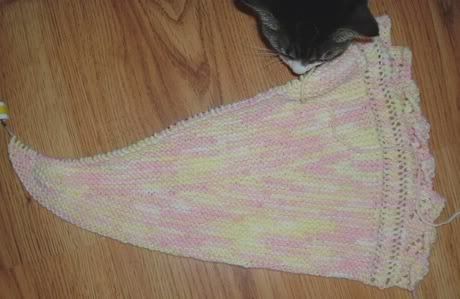 The pattern is Oat Couture's
Pinwheel Afghan
. I found this pattern while looking at the
Curlicue Coverlet
that Grumperina
recently wrestled with
. I bought both patterns back in September figuring that I would make Pinwheel for Kelly's baby and make Curlicue for my next niece/nephew, assuming that my brother would get his wife knocked up again. Well, I didn't have to wait long for the knocking up. Big brother and wifey are expecting their second baby in May. Gender unknown--of course!