This past weekend, Peter and I went to Fredericksburg, TX to attend a wedding. Fredericksburg is a town located in the Texas Hill Country. The Hill Country is a pretty part of Texas covered with rolling hills and dotted with small, touristy, and supposedly quaint towns. Fredericksburg had the appearance of quaint, I don't think they pulled off quaint very well. More like snooty and pretentious to me. Store and stores of
useless trinkets
and
high-priced junk
often labeled as "collectables" and "antiques." Not really for me.
But there were some fun things in Fredericksburg.
Rustlin' Rob's
was a crazy, but tasty place. Seriously, you could eat enough there to replace an entire meal. They had samples of EVERYTHING in the store. Every room had counters lined with open jars of food and huge baskets of crackers. Most of the products were made locally and there were several unique-to-the-area products such as prickly pear jelly and honey butter in many flavors.
And of course, I found the only yarn store in town:
Stonehill Spinning
. The store started as a spinning and rug hooking store, but expanded to include knitting, crocheting, and needle felting. They didn't have a huge selection of yarn, but what they had was nice: lots of Wool Pak, Classic Elite, some Brown Sheep, and some Recycled Sari Silk. The store was a bit dark so
taking photos was not easy
.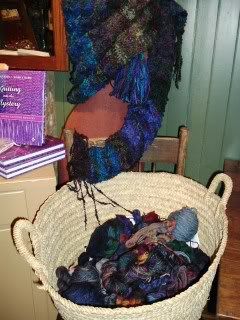 They also had some Mountain Colors in both worsted weight and sock yarn, but what they had on hand was mostly dark colorways and I didn't like any of them. However, they had a big basket of mill ends from Mountain Colors. It contained mini balls and mini hanks of different kinds of yarn produced by Mountain Colors. Some balls were large--probably 50 yards or more, but some were tiny--no more than 5 yards. The store sells these mill ends by the ounce and their customers use the mill ends for trimming knitted pieces or for making patchwork-like pieces. The shawl in the photo was made from mill ends of one type of yarn.
Stonehill also sold yarn hand spun and hand dyed from the fleece of angora goats raised locally at
El Coyote Ranch
. This yarn was very lovely. I wanted to buy some grayish-blue mohair, but only one hank remained and I wanted to have more. The same was true with some handpainted mohair/wool. I guess I just happened to arrive at the wrong time. I left with two hanks of violet 100% mohair. I'm not sure what I will do with it. Perhaps a lace shawl. (Peter says, "Do you really need a shawl? What are you going to with a shawl?") The
tag on the yarn
shows the pride of the person who spun and dyed the yarn.