How in the world did I ever live without a blocking board before? The lines, the numbers--I'm in heaven!!!
My lovely blocking board is just big enough to block the front and back of Peter's sweater: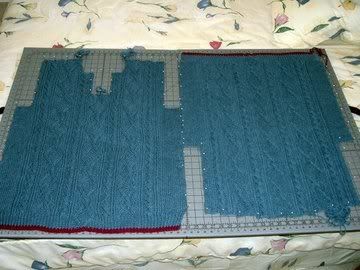 But not quite big enough to block both sleeves at the same time (stupid saddle straps!)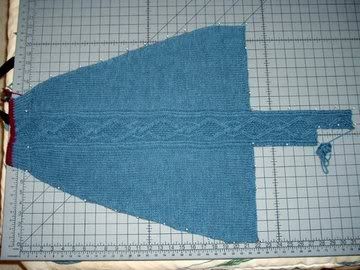 Once sleeve #1 is dry, I'll block sleeve #2 and start seaming the sweater. This sweater needs a lot of seaming--again Stupid Saddle Straps!
In other news...
I ordered yarn for
Moni
from a wonderful online retailer called
Richesse
. But I won't start that sweater until after I have finished the Baby Blanket. The yarn arrived yesterday. Unfortunately, I did my stash photo shoot for
Flash Your Stash
last week so this yarn won't be in the group shot. I will take an extra close-up photo of it and post it next week along with the rest of the "yarn p0rn."