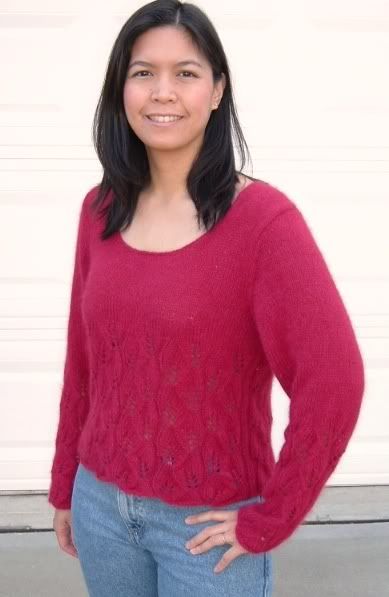 Pattern:
Berkshire Breeze by Laura (hey, that's me!)
Size:
Laura-sized
Yarn:
KFI
Angora Extra
(70% angora, 25% wool, 5% nylon) in red, 7 balls (color is off in these photos. The true color is shown better in
this photo
.)
Needles:
US size 7
Reason for name:
The scarlet leaves reminds me of the autumns that I spent in the Berkshire Mountains while attending Williams College. The "Breeze" part refers to the lightness of the sweater and the fact that the lace makes wearing the sweater a little breezy.
What I like:
Bunny Yarn! And the fact that it turned out the way I envisioned it and it fits me very well.
What I don't like:
The sleeves are a bit baggy in the upper arms. But this yarn is unfroggable, so no corrections will be made.
Why you won't see this in Knitty:
Because you're seeing it here! By posting the photos of this sweater, I broke
Knitty submission rule #1
--don't blog about it. (That's a paraphrase of the rule.) I'm not sure if
Magknits
has such a rule. After all, they published Picovoli/Tivoli after the Tivoli pattern had been available for awhile. But in any case, the dates for winter submissions for both magazines has passed. If I tried to submit this sweater pattern now, it wouldn't be published until next year.
Why the lace doesn't go all the way up:
Because I didn't want to show my bra to the world and because I felt the lace would be ruined by the decreases for the armholes and the neckline.
Preemptive strike at answering questions:
* Yes, I will write up the pattern (I even have a test knitter lined up).
* No, I don't know when the pattern will be available for all of you.
* I don't know if more than one size is forthcoming. However, Laura-size may fit larger than Laura-sized people. I didn't want this sweater to be too tight on me--I'm not that kind of girl. (Also, this fabric has a drape that wouldn't really lend itself to a body-hugging sweater. At least I don't think so.)
* Yes, it's very fuzzy and warm.
* No, you can't have it.