First of all, THANK YOU everyone for your kind words about Berkshire Breeze. I am considering my options for the pattern. But I am also very busy right now, both with regular work and knitting work. I have landed another knitting job and that is taking precedence over everything starting tomorrow. So, you probably won't see anything on the pattern front until January at the earliest.
And now, on to the good stuff: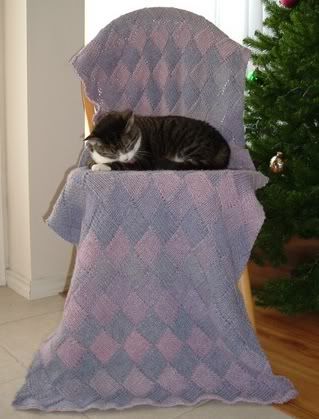 Pattern:
Lady Eleanor Entrelac Stole from Scarf Style
Finished size:
24 inches x 73 inches blocked (20-ish inches and 63-ish inches, unblocked)
Yarn:
SWTC Karaoke in color 281 (Bloom colorway) 11 balls
Needles:
US size 9
Cat:
Scout
Modifications:
Because Karaoke has a smaller gauge than the suggested yarn has, I added a repeat to insure that the stole would be wide enough. I also knit more tiers than what was written in the pattern to get the length I wanted. I omitted the fringe because I want this to be a "casual" stole and the fringe seemed to make it dressy.
What I love:
1)
Once washed, the fabric has an incredible drape.
2)
The gradual color change of the yarn yielded single-color rectangles. I have only one rectangle that has an
abrupt color change
. That was where I changed from the first ball of yarn to the second ball. After that, I made sure to match the colors when adding a new ball.
3)
warm and cozy and nifty looking
What I don't love:1)
It has mistakes. *gasp* Here is
a mistake
that happened when picked up too many loops when I was picking up stitches. Normally, the crazy perfectionist in me will force me to fix all of my mistakes. But laddering down is not an option in entrelac, and correcting mistakes that happened the tier below requires a lot of ripping out and reknitting. On three occasions I was too lazy to make the corrections. On other occasions, I was obsessive enough to rip out as much as two tiers of knitting in order to correct a single mistake.
2)
It a bit longer than I wanted it to be.
3)
I am incapable of capturing the true colors of the stole with my camera. It is much more richly colored than it appears in these photos.