Three posts in three days? How did I ever find the time? I have a lot to cover today so grab a beverage of your choice and get comfortable. Or simply skip reading this altogether if I'm boring you.
Topic 1: Thanks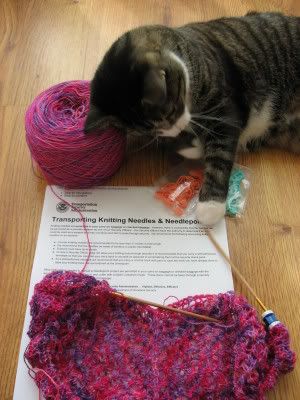 Thank you all for your support and words of encouragement on my
"help me!" post
. I managed to finish all my expected work by Thursday afternoon and put out a small fire on Friday morning. So, I'm almost completely ready for our trip. I even have my knitting on my TSA approved knitting needles and a print out of the TSA rules just in case I have to convince a TSA employee that my needles are not weapons.
Peter also thanks you for all the good wishes that you sent. The bar exam is over and Peter feels confident in his performance on the test. Of course, I was not worried--this is the guy who got the second highest score in the
nation
on the CPA exam a few years ago.
And to those of you who got to my blog by googling "bar exam Alaska," no one here took the Alaska bar exam. And even if I had, I wouldn't be blogging about it.
Topic 2: More Thanks
Thank you also for your kind words about my Go With the Flow tank. I've worn it a lot and it's very comfortable. I know that I knit it quickly, but I wasn't knitting anything else during that time. And I realized that I wouldn't be able to knit the tank while I was in Alaska because it was knit on non-TSA-approved needles. So, I wanted to finish it before we left. And heck, it's mostly stockinette.
For those
of you
who asked about the shoulder seams, I'm planning to prepare something about it just for you!
Tara,
cabling with this cotton did not hurt my hands. The yarn is so fine and the cables are so small that the cabling process did not seem much different from cabling with wool. However, Cotton Fine is very splitty and cabling with out a cable needle required extra care.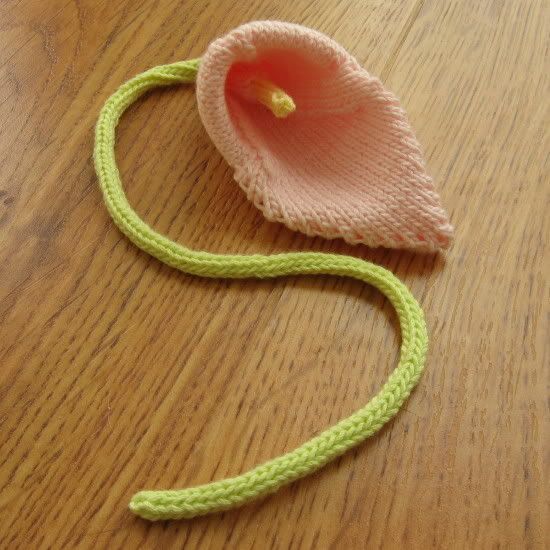 Topic 3: Flower
Here's a flower for
Helen
. She's getting married and wants to have a knitted flower bouquet--isn't that a nifty idea? Helen has recruited fellow Knittyheads to help her with the flowers. She picked the
Lilies
pattern from Knitty for her flowers.
The flower is cute, but I found knitting it a bit fiddly. The pattern is clever, but the short rows were not fun for me. At least it knits up quickly. I have enough yarn for at least one more flower.
Topic 4: Bye!
We're leaving for Alaska tomorrow! We will be gone for a week and a half. I'm not sure how much email access I will have during that time because I refuse to take my laptop on the trip. I want to be blissfully unconnected during my vacation. So, instead I'm looking forward to being buried under emails and unread blog entries when I come back!
While I'm gone,
Monkee
will be leaving the Houston area to begin her higher education in Dallas. I leave it to all of you to
tease her mercilessly
keep an eye on her for me. Make sure that she packs a toothbrush.