I finally finished Peter's sweater. It is easily the most perfect sweater I have ever produced because I really went out of my way to use the best knitting and finishing techniques. I made complete swatches and
washed
the swatches. I tested cast-on edges to find the perfect edge. I measured while knitting to make sure that my gauge was consistent. I knitted both sleeves at the same time to ensure that I use the exact same increases and decreases. I blocked everything perfectly to the correct dimensions. I seamed using a mattress stitch to make nearly invisible seams. I carefully counted the stitches I was picking up for the neck and planned out exactly which to pick up and which to skip.
When all was one and I presented my piece of perfection to Peter, he put it on and said, "It's too long." *CRY!* But actually, the sweater is NOT too long. It's the right dimensions according to the pattern. However, the sweater is too long for Peter's taste. Peter is too dang skinny. The bottom ribbing doesn't touch his body so it doesn't "grab on" to keep the hem of the sweater up where he would like it to be.
I will not frog this sweater just to make it the correct length. I'm thinking about adding elastic to the ribbing to see if I can get it to pull in. If worse comes to worse--I may cut out one of the diamond-patterned repeats and graft the ribbing to the sweater body. But I'm so very bad at grafting and the cabling will make grafting harder than ever. I'm not sure that I can undo the cast on edge and knit back down because the ribbing uses twisted stitches that continue up through the body.
Full length: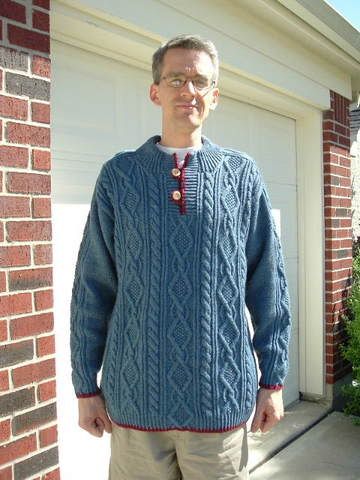 Neck detail:
Saddle strap detail: