I have always said that I can have only two projects on the needles at one time, three if one of the projects are small. Over the last few months I have learned that I was completely wrong. The truth is, if I have three projects on the needles, one is completely neglected until I finish one of the other two projects.
Take the Dayflower Daydream shawl as an example. I
started it
back in January. Since then I have completed Rogue, Sweet Girl Socks, Curlicue, and the Dragon Hoodie and have made significant progress on the 1930's style dress that I am sample knitting for Annie Modesitt. When ever I had three projects going, I would cast the Dayflower shawl aside, not knitting a stitch on it and not even taking out of my knitting bag. The shawl is now officially renamed "The Poor Neglected Barbie Shawl."
When I finished the Dragon Hoodie last weekend, I gleefully grabbed The Poor Neglected Barbie Shawl and knit round after round. I felt so happy to be making progress on it again. I even finished the third repeat of the pattern. Finishing three repeats may not seem like a lot, but each repeat is 40 rounds and by the end of the third repeat I had over 400 sts on the needle. So it is a lot.
Then on Thursday, the yarn for the sample knit that I am doing for
Yarntopia
arrived at my doorstep.*
Debbie Bliss Pure Silk
to be made into the
Cap Sleeved Top
. I looked longingly at the pretty yarn realizing that if I cast on for the project, I would stop working on The Poor Neglected Barbie Shawl. What do you think I did?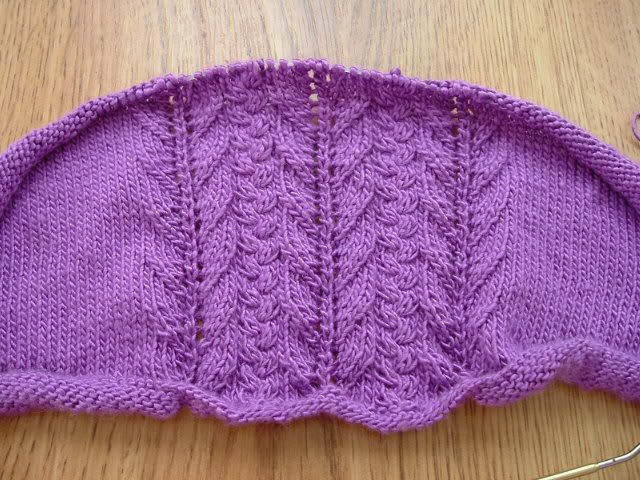 That's right. The Poor Neglected Barbie Shawl got its name for a reason. Some day, little shawl, I promise to finish you. For now, I have pretty, shiny silk to play with.
Tune in next time when I discuss the pleasures and pains of pure silk. Here's a preview: Silk + Cables = Meh
* For those who are interested, and I'm speaking to you Yarn Focus Challenge people, I did not screw up and buy yarn! No money was exchanged for this yarn. The yarn still officially belongs to the store. I agreed to do this sample knit over a month ago, but the yarn took a long time to arrived from the distributer.