Yes kiddies it's that time of the year again. The 2nd Annual Stash Flash. Although my stash has grown considerably since
last year's flash
, I'm still not close to SABLE. I do make efforts to keep my stash under control by trading and giving away yarn that I know that I won't use. In fact, I have hardly any of
Mrs. Stranger's stash
left at my house. Most was given away (a lot went to
Monkee
and her mother) and some was used as prizes for the
Ugly Ball of Yarn contest
. So, without further ado, I present my stash! All photos can be enlarged by clicking on them.
Group shot, not very scenic. This photo was actually taken after all the other photos were. As I finished taking photos of the yarn, I'd carefully pack the yarn in nice zippered bags and then toss them in this pile. Scout is not sure what to make of all the yarn.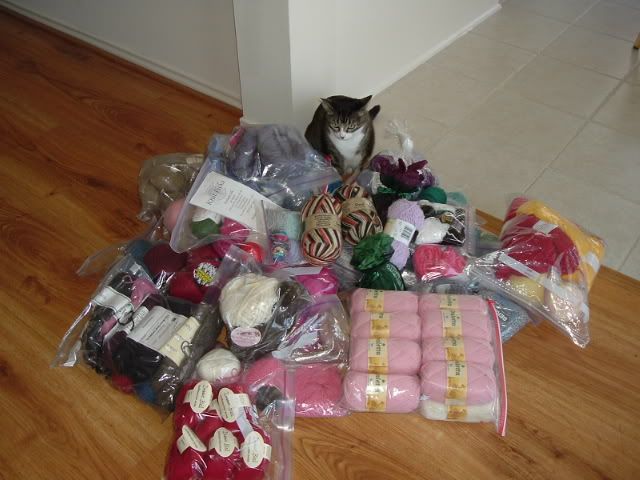 Cool Cottons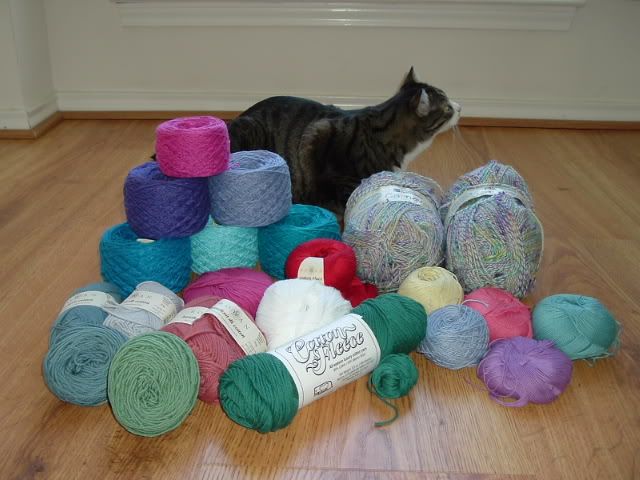 Cottons and cotton blends here.
* The jewel-toned cakes in the top left are the remnants of the unfinished sweater that I showed last year.
Helen
wanted the laceweight from the sweater, so I frogged the sweater.
* The two large skeins in the top right are from Mrs. Stranger. 500 yards per skein! I think it's destined to be baby stuff.
* The pastel balls in the front right are leftovers from
Moni
. Moni was just a bunch of yarn in last year's flash.
* The rest are leftovers from
Curlicue
,
Rosa
,
Rebecca Pirate Sweater
,
Arrowhead
, and
Elspeth
.
Furry and Fancy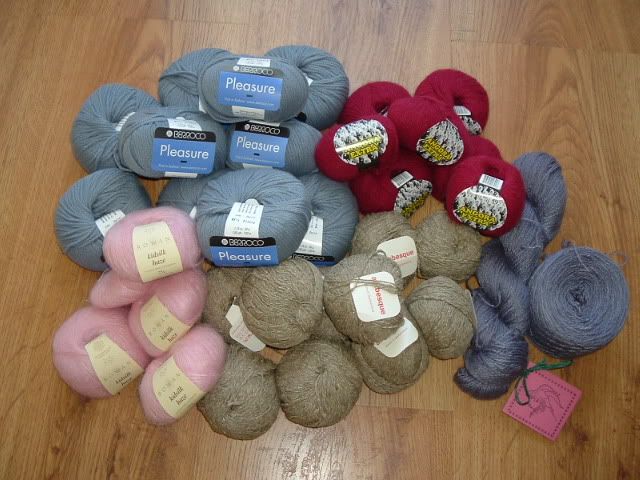 Some of my nicer yarns--most of it fuzzy. Clockwise from top left:
* Pleasure is almost certainly going to become
Starsky
. The gauge and yardage are spot on--almost as if the sweater was written for this stash yarn.
* KFI Angora Extra: I overestimated how much I would need for
Berkshire Breeze
. So, I bought another ball so that I would have enough for another sweater. Clever, huh?
* Texas mohair: To become a Flower Basket Shawl eventually.
* Cotton and tussah silk from Mrs. Stranger's stash. Certainly enough for a sweater, but I haven't found a suitable pattern. I may design my own.
* Kid Silk Haze from
Reversible Rib Shawl
. I think it will be
Marianne
from Rowan 37.
Yarn DOES grow on trees!
(or at least some plants)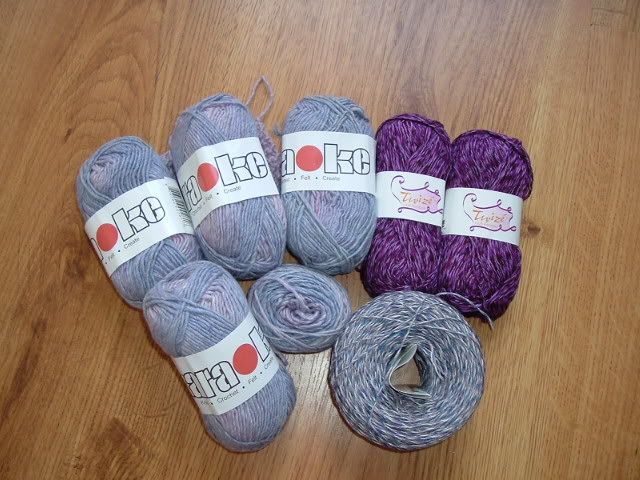 Karaoke (tofu yarn) Twize (bamboo yarn) and Euroflax Linen. Apparently, I like plant fibers in shades of purple.
Thin Stuff and KnitPicks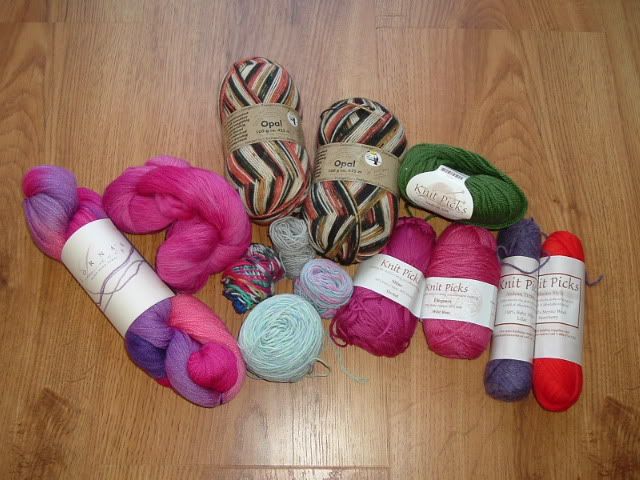 From the left:
* Lorna's Laces Helen's Lace. An impulse buy. I haven't picked a pattern yet.
* Barbie Rose laceweight. Someday it will join the other hank in the Barbie Shawl.
* Tiger sock yarn to be made into a stuffed tiger--not into socks.
* Random leftover sock yarn
* A variety of KnitPicks yarn that I bought for swatching.
Woolies, part 1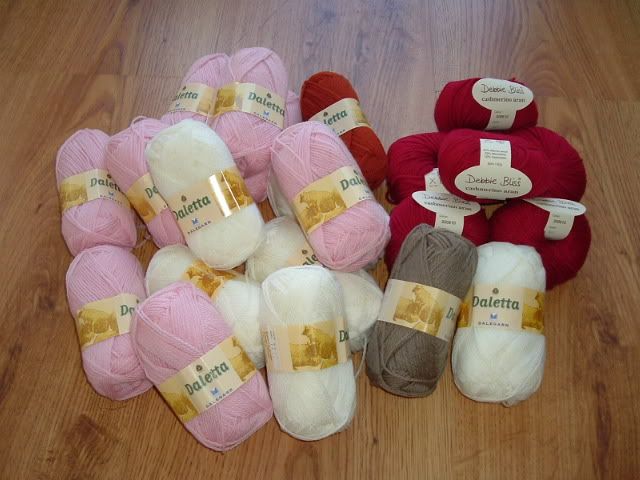 Daletta yarn for
Lotus
and Cashmerino. The Cashmerino was supposed to become Tempting, but I changed my mind.
Woolies, part 2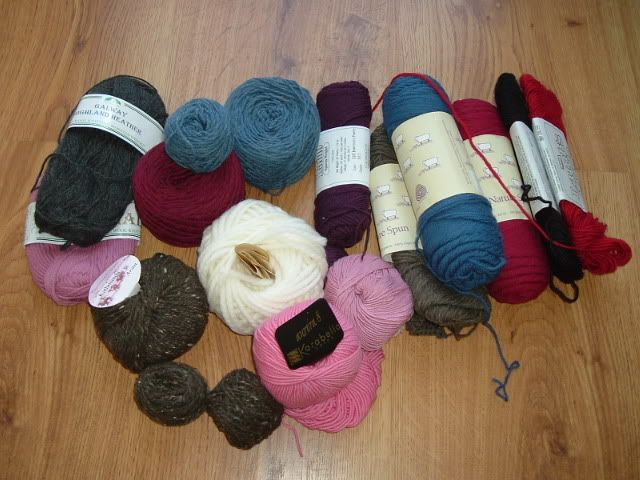 Odds and ends of wool and wool blends from various projects. I always buy extra and I always have extra leftover, funny how that works. For some reason the leftover Cestari (aka machine washable purple sheepies) from Rogue didn't make this photo.
Novelty and Petroyarns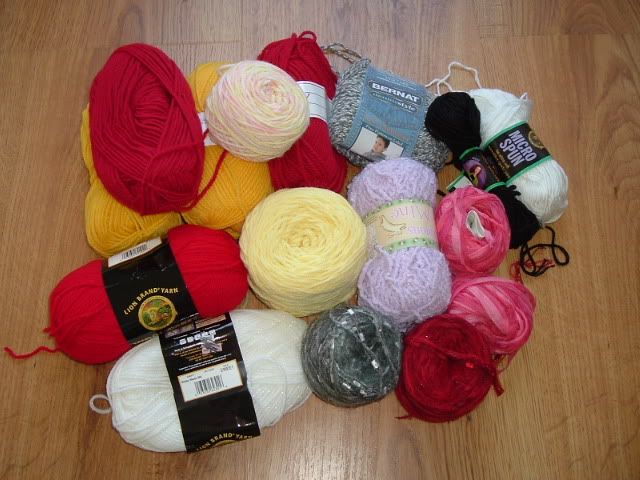 Lest you think I'm a complete yarn snob, I am displaying my yarn consisting of mostly human-made materials. I made baby stuff with a lot of this yarn. Let's face it--acrylic yarns yarns are perfect for babies that are going vomit on their clothes and then outgrow them in 2 months.
Need more yarn p0rn? Check out the
other stash flashers
!