In which Laura reviews Debbie Bliss's Pure Silk and seems to dislike it, but in reality, she loves it.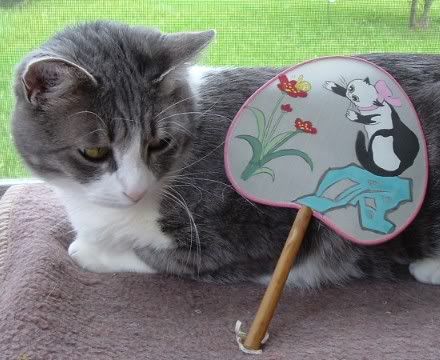 I love silk. Of all the fibers out there, silk is my favorite. I love it more than angora and more than cashmere. Silk was the first luxury fiber that I ever owned. When I was a small child, my parents bought me a jacket similar to
this one
. Similar in that it was silk, quilted, had a mandarin collar, and had a similar "spotty" design. Otherwise, it was red, had fancier frog closures, and was sized for a little girl. I loved that jacket, but was allowed only to wear it for special occasions. Around that time, I was also given a silk fan, which I still have. (I was given a choice between this fan and a fan that had a duck on it. No surprises on which one I picked, huh?)
Ever since I started knitting again I have been dreaming of knitting with 100% silk. But 100% silk is expensive! I couldn't justify buying any silk yarn. I was reduced to petting and gazing longingly at silk yarn in the yarn store. If only, if only....*sigh*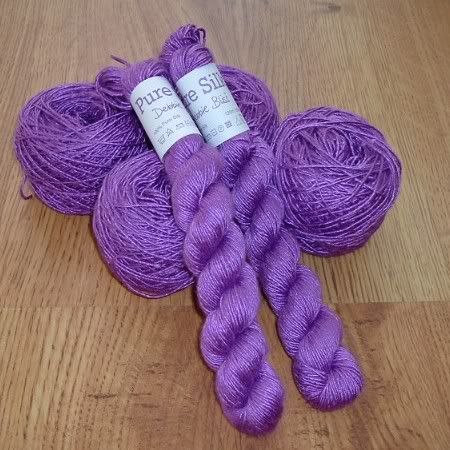 So when
Ms. Amylovie
gave me the opportunity to knit with Debbie Bliss's new Pure Silk yarn I jumped at the chance. I love this yarn. I may not love everything about the yarn, but I can forgive all its flaws because it is so heavenly to touch.
The yarn is amazingly shiny, soft, and slippery. (I am trying to resist saying that the silk is silky but that does seem like an appropriate word.) I think the silk is
reeled silk
, but I am not sure. Whatever it is, it more closely matches my image of silk than
Reynold's Mandalay
does. However, the yarn has a
halo
(click for photo) that is very obvious. Normally I don't mind a halo on yarn, but the halo on this yarn mutes the shininess of the yarn. The halo becomes more pronounced with washing, which makes me wonder how I will care for the sweater once it is finished. Quite frankly, I was horrified when I saw how much fuzz developed when I washed my swatch. Happily, the fuzz was much less noticeable once the swatch dried.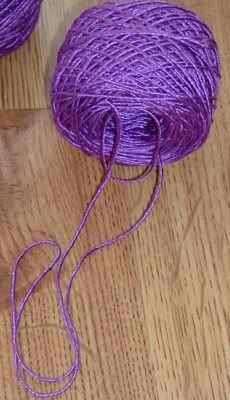 The yarn comes in 125 m hanks (that's 136.7 yards to you nonmetric types) and after winding one ball, I immediately began wishing that it came already balled. Did I mention that the yarn is slippery? The yarn did not always want to stay where the ball winder placed it. Some of the yarn always slips off the ball resulting in not so pretty balls with loops of yarn sticking out of the bottom. That's not the inside end of the ball--that's yarn from the middle that didn't wind properly. But I was still able to wind the yarn into usable balls, but I do pull the yarn from the outside instead of from the inside. I'm afraid that, if I use the yarn from the center, the ball will explode into a mess of tangles.
Knitting with the yarn is a dream and a nightmare. It's a single ply, loosely spun, and it slips quickly and easily through my hands and over the needles. Pure indulgence for me. However, silk fibers are extremely thin and lack the grabbiness of wool. You know what that means, right? The yarn is splitty. So splitty that I don't take my eyes of my knitting. I have to watch every stitch to make sure that I haven't separated a few tiny strands from the rest. But hey! I love to watch the yarn and I am savoring every minute that I work with it, so looking at it all the time is not so much of a hardship.
Also, the yarn has occasional
"slubs."
I'm not sure what these slubs are. A group of fibers improperly spun in a short segment? At first I thought the slubs were fuzz stuck to the yarn, but they are attached and pulling on them doesn't work. So I have been carefully knitting through the slubs and then using a crochet hook to pull most of the fuzz to the wrong side of the work.
The knitted fabric is very drape-y and has a nice shine. I wish it had more shine, but the halo gets in the way of that. It doesn't not have very much stretch lengthwise, which I hope means that the fabric won't "grow" like cotton fabric does. My swatch survived a bath in cold water with mild detergent and mild agitation though, as noted before, more of a halo appeared after washing. The yarn is marked machine wash, but I would be hesitant to put it in a washing machine because I wouldn't want too much friction on the surface of the fabric.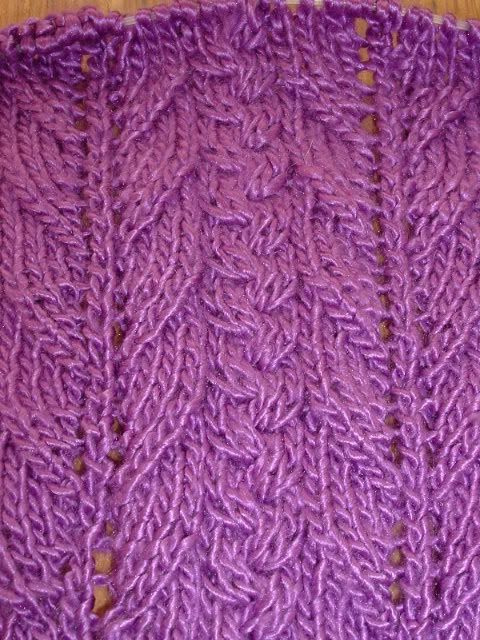 The yarn looks good in stockinette and in lace, but not so good in cables. The cables are very flat and rather uninteresting. I'm highly surprised that the
patterns published
for this yarn include three heavily cabled garments. I was suspicious of using silk for cables and I'm sad to see that I was right to be wary. This silk does not have the body needed to make cables pop. When I look at the cables I made, I don't even think they look like cables. They look more like a texture than a structure. (Also note that the Pure Silk book has a few ribbed patterns. I am not sure how successful ribs would be in this yarn either. I suspect that silk ribs will behave like cotton ribs--not ribby)
One other thing: the first ball that I used had THREE knots in it. I think it was an anomaly though. I've wound five other hanks and did not find any knots.