Can you believe that I haven't finished Rogue yet? I started way back in December and now it's the middle of January and I haven't finished the hood yet. And I still need to make the sleeves. Don't I knit faster than that? Well, truthfully, my knitting time has be much more limited recently because of my job and my desire to quit my job.
On top of the nonknitting distractions, I have had a few knitting distractions. First, I needed to reknit the
Dad Hat
. I thought that it was huge when I made it, but I was counting on Dad's unusually large head to fill it. Silly me, I should have trusted my instincts on the hat size. Mom sent the hat back to me and (much to the delight of Scout and Cleo) I frogged the whole thing. I reknit the hat using one less pattern repeat. The hat now fits me and Peter, so I think it will fit Dad.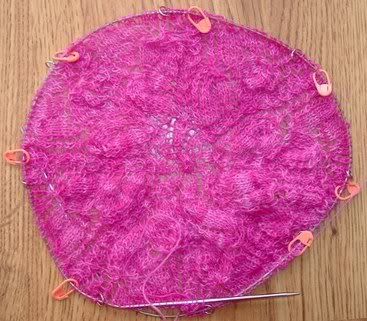 But wait there's more! More distractions, that is.
Monkee
gave me some
Barbie Rose
laceweight for
Festivus
. Thank goodness I didn't have to perform any Feats of Strength to get my present. It's very pink. I wonder how she knew that I liked pink? Naturally, I couldn't let this lovely (pink!) yarn sit around for too long. I started working on the Dayflower Daydream shawl from
Knitter's Magazine Shawls and Scarves
book. Monkee's present couldn't have been better timed--I have been itching to do some lace and was thinking a circular shawl would be a good challenge. Like all lace shawls it doesn't look like anything right now.
See the dayflower?