. . . I must have done something good.
My name is listed as a contact on the main Houston SnB webpage. So, I occasionally get knitting related emails from people who I don't know. But the email I received on Thursday was a bit different (with some edits):
Hi Laura,
...I'm not interested in joining [your] knitting group, since unfortunately, after knitting for 50 years I'm unable to do so anymore I'm contacting you, because I have "tons" of german yarn that I've accumulated over the years and I would like to give it to someone that is capable of using it the way it should be. There is not cost involved (other than you having to pick it up at my house). Please let me know if you're interested.
(signed) Complete Stranger
Hello! Am I interested? You betcha! I emailed Mrs. Stranger to set up a pick up time. In her return email she mentioned that she also had a "ton" of knitting books, some in German. Did I know any knitter who could read German? she asked. Well, because I am an American-born Chinese-Filipino, naturally the only other language that I know is German. Weee!
Peter and I drove over to Mrs. Stranger's house the morning and came home with this: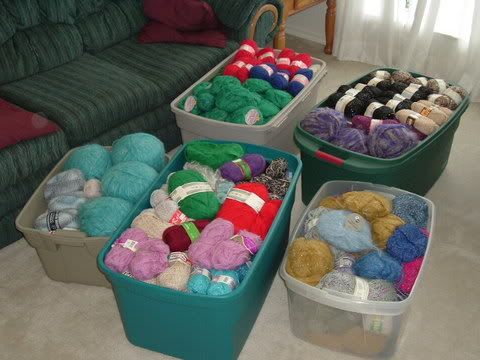 And this: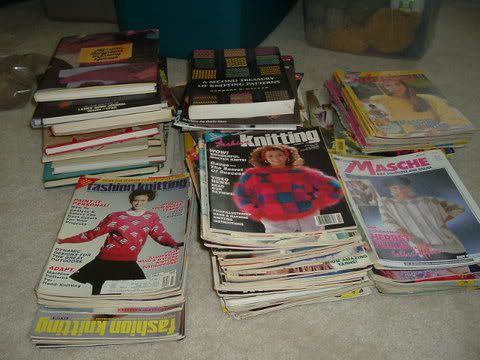 (The biggest prize: Barbara Walker's Second Treasury of Knitting Patterns)
And this: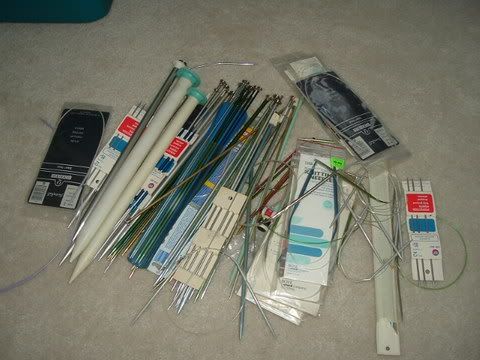 Straights, DPN, circulars including some Addis and Inox needles.
Most of the yarn are full balls, complete with ball bands. A lot of cotton blends, lots of mohair blends, acrylic stuff, stuff with lurex, and a some novelty yarns. I found
ten balls of a lovely 55%cotton/45% tussah silk yarn
, a heck of a lot of
orange Regia sock yarn
, some delicious
55% cotton/45% wool yarn
, interesting looking
novelty yarn
, bags of
cotton/linen yarn still in its original packaging
, and some gigantic balls of fuzzy blue mystery yarn (Scout used for scale):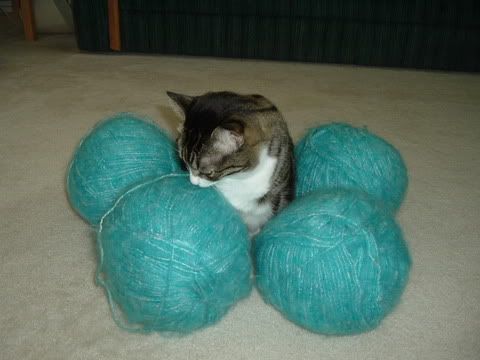 I have no idea what I'm going to do with it all. I'll probably trade or give a lot of it away. Maybe I will get it organized and invite the people in my SnB to paw through it and take what they want. Maybe I will send boxes of random yarn to people I know. Right now I'm just completely overwhelmed!