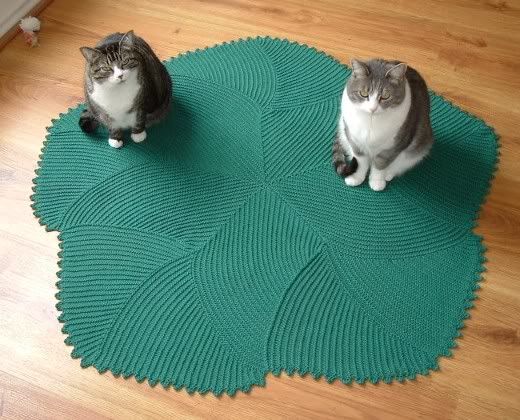 (click for bigger version)
Pattern: Curlicue Coverlet from Oat Couture
Yarn: Brown Sheep Cotton Fleece (80% cotton, 20% wool) in Oriental Jade, 6 skeins
Needles: US size 5
Modifications: provisional cast-on, grafted seam
Cats: Scout and Elly, getting along for once.
Catless photo: here
Comments: I was a little worried about whether the blanket would be flat when I got ready to take this pre-blocking photo. I needed to tug and smooth quite a bit to get it to be flat-ish. But when I got the whole thing wet and put it on the bed to block, it wanted to be flat. No tugging required. All I had to do was pull it out to shape.

I love the shape and the curvy lines of this blanket and I'm very happy with the way it turned out. Hopefully, Niecephew will get a lot of good use from this. However, I think I liked the Pinwheel Afghan better than Curlicue. I liked the lace edge better, I like the reversibility better, and I liked the lack of double-sized short rows better.

I'm not sure how quickly I'll be getting this shipped off to my brother and SIL. Niecephew is not due to make an appearance until the end of May. (However, I'm encouraging SIL to wait until the first week in June so that the baby can have the same birthday as my brother or me. My birthday is also their anniversary. Wouldn't it be great to have three super events to celebrate in one day?) I intend to send a sweater for Eva (Niecephew's older sister) along with the blanket, but right now that sweater looks like several balls of yarn in a plastic bag. I wonder when it will magically transform into a sweater?