...I'm done buying yarn. At least I am for awhile.
Yesterday I went to
Yarntopia
*--the place where yarn dreams come true. My yarn dreams certainly came true! What an amazing store. Houston-area knitters are in for a treat. A fabulous yarn selection that beautifully displayed. A feast for the eyes and an assault on the wallet. But seriously, they carry many may yarns that aren't carried in other Houston stores including Fleece Artist and Malabrigo. And speaking of Malabrigo: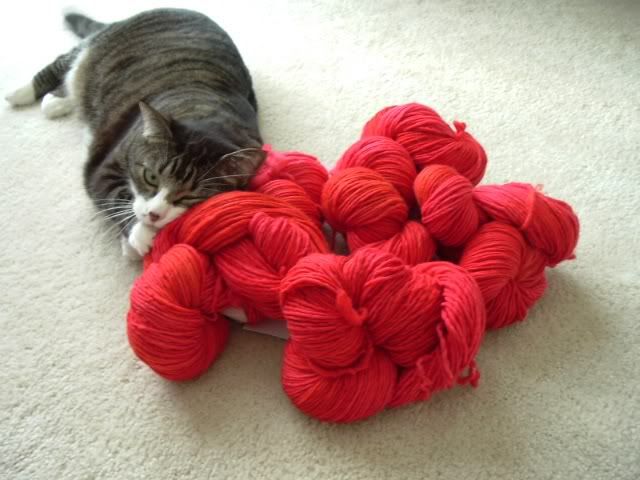 Six hanks of Vermillion destined to become Salt Peanuts unless I change my mind before I start. I can't seem to photograph the colors well. Rich reds and pinks with tinges of orange. Even Scout loves this yarn. She was rolling around in it when I was trying to take photos.
Now that I have purchased this yarn, I'm not going to buy any more yarn for the next three months or more. I mean it. As you saw when I flashed my stash this weekend, I have several sweaters worth of yarn. I don't need any more yarn for awhile. I'm set for the
Yarn Focus Challenge
!
(For those of you wondering why I didn't reset my yarn ticker--the Yarn Focus participants get one free day per month to purchase yarn. Yesterday was my free day for April. I do not plan on using my free days in May and June.)
* The easiest way to get to Yarntopia from Houston is to take the Westpark Tollway out to Katy. Exit on Mason Road, turn north (right), drive for a few miles until you get to Cinco Ranch Blvd. The store is in a strip mall on the northwest corner of the intersection and is not very visible from the road.