Rebecca is not X-rated, but it may be rated PG.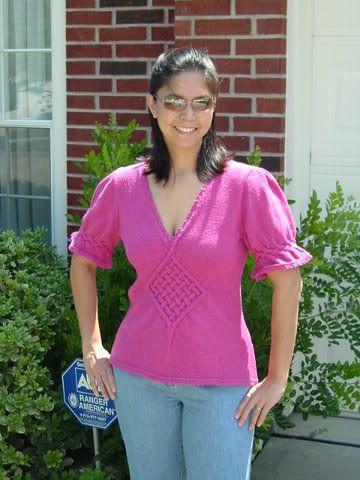 Pattern:
Sweater with Honeycomb Pattern from Rebecca 29, size small
Yarn:
ggh Bali, 7 balls (see note below)
Needles:
US size 6 and my smaller crochet hook (I only own two crochet hooks)
Modifications:
For modesty's sake, I slightly closed up the bottom of the V-neck. I also added a row of single crochet to the neckline before doing the picot edging to close the neckline up some more. I also omitted the crocheted sash. It looked silly to me.
Pattern Error:
The chart for the diamond motif that was published in the magazine is incorrect. The chart produces a diamond that is smaller than the diamond shown in the magazine photo. I corrected this error by simply continuing the established pattern. Only after I made my corrections did I discover that Rebecca has a
corrected chart
available on their website.
Yarn Warning:
The pattern says that the size small of the sweater can be made with 6 balls of Bali. I finished the 6th ball when I finished knitting the pieces. If I had only purchased 6 balls, I would not have had any yarn to do the edgings. Luckily, I always buy an extra ball of yarn. But if you plan on making this sweater--I'd suggest buying extra.
Random Thoughts:
Is it a winner or a loser? I can't decide. I'm not sure the puffy sleeves are doing anything for me. I do like how the cable pattern from the front is repeated on the sleeves--but that's what makes the sleeves puffy. (The cable pattern gathers the fabric.)
Maybe the sweater is too fussy for my tastes. Compare it to Tivoli from yesterday. Tivoli is simple and clean, Rebecca is . . . I don't know what it is. Maybe it's a pirate shirt? Thank goodness for the plunging neckline--if the neckline were too high the sweater would look horribly prudish.