Remember when I was working on a
secret project
? I later admitted that I knit it for
Annie Modesitt
. You can finally see the whole piece now (sorry for the small photo):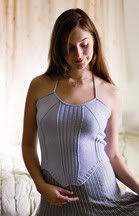 Pattern:
Bias Corset by Annie Modesitt,
Summer 2006 Interweave Knits
, smallest size, A-cup
Yarn:
Filatura di Crosa Zarina (100% Merino) and Filatura di Crosa Luxury (100% silk)
Needles:
US size 2 (or did I use 3s? I can't remember anymore)
Comments:
* The first version of the pattern produced a much longer top. Annie shortened it after she saw it.
* The top is easily knit in one piece. (Except for the straps. So I guess it isn't technically one piece, but there is no real seaming involved.)
* The pattern has instructions for different sizes AND instructions for different cup sizes (A, B, C, and D cups)--you can mix and match to get the perfect fit. I personally think that this will be flattering to many body shapes.
* I'm surprised at how high the model is wearing the top. I though that it would be worn lower so that the diagonal row of eyelets would go below the breasts.