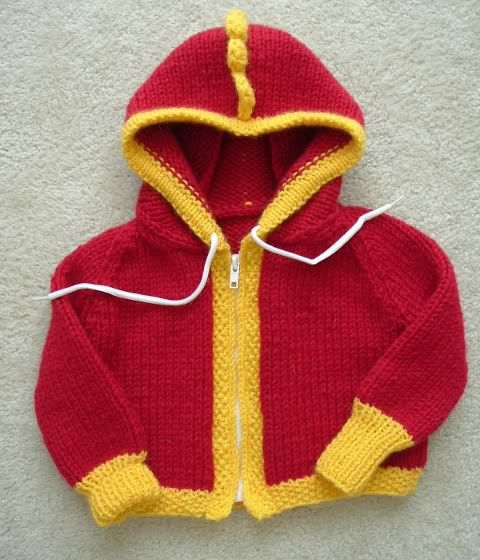 Pattern:
Dragon Hoodie
by Marnie MacLean, size medium
Yarn:
Plymouth Encore Worsted, held double for red parts
Needles:
US sizes 9 and 10.5, Crochet hook size J
Personal Challenge Met:
I knit the whole thing continentally--just to prove that I could do it
Resolution Achieved:
I accomplished
goal #1
. The others are going well, too!
Comments:
1)
I'm still concerned about the size of this thing. I guess Niecephew can wear it if it is too small for Eva.

2)
The seams are very bulky even though I used only one strand of yarn to seam. I should have sewn only half of the edge stitches into the seam. I wish I had heard that hint BEFORE I finished seaming the sweater.

3)
Zipper installation was an adventure. It's not perfect--you can see the zipper when it is closed, but I think it's pretty good for a first attempt. The first time I tried sewing one side of the zipper, I sewed too far away from the teeth. I completely missed the zipper tape in one spot and had to rip out the whole thing.

4)
I shortened the zipper by
folding the excess zipper down
at a 90-degree angle, sewing the folded zipper together, tacking the folded bit to the sweater, and then
snipping off the excess zipper
. Not the greatest way to shorten the zipper, but I didn't have much choice. The zipper is plastic so I couldn't move the zipper stop. The zipper is so fat that I couldn't fold it over at a steeper angle.

5)
Unfortunately, a couple of
zipper teeth poke
through the front of the sweater. But I think it's better than poking into the baby's neck.

6)
The crocheted spikes have a definite
right side
and
wrong side
. But I think they both look fine. I wish I had taken the time to figure out how to crochet the spikes directly onto the sweater, but I was too lazy.

7)
The
crocheted ears
that I made up look pretty good.

8)
Scout still doesn't care to wear the sweater...