I'm trying some Noro Kureyon right now. I don't understand why so many knitters love Noro yarn. Ok, I see the beautiful colors, but why do all of the
colorways
have some icky color (or colors) that ruins the entire colorway? For example, look at #40. Intense blues and purples--pretty pretty--then BANG! ugly orangish brown. I want to cut that section out of the ball.
The quality of the yarn leaves much to be desired, too. It's not particularly soft. It has gigantic pieces of grass "spun" into it. I put spun in quotation marks because some sections of the yarn are not spun at all. The yarn splits. It's hard to frog. It can't make up it's mind if it wants to be fingering-weight yarn or bulky-weight yarn.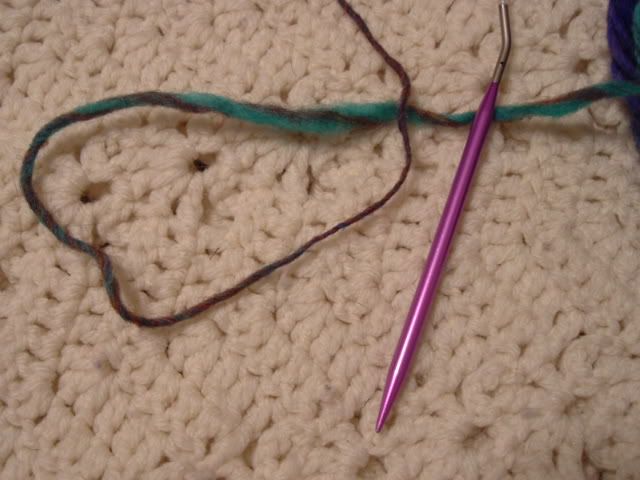 Here you see a very short section of yarn straight from the ball. That's a US size 8 needle for comparison. What the heck? How am I supposed to knit this? Some parts of the fabric are too loose, some parts are too tight, and some are just right. Phooey. If I really want a self-striping yarn, I'm reaching for
Karaoke
instead.
Obviously, I'm finding very little to like about this yarn. Yet, so many knitters love the stuff! They sigh over it. They drool over it. So, I started thinking. Is Noro like that super-popular girl in high school that everyone secretly hates but no one is brave enough to bad-mouth? Is Noro the Queen Bee of the Local Yarn Store? Come on fellow knitters! Take a stand against Noro! Noro only gains her power and popularity from us because we let her have it. If we don't give into the Noro-hype, her desirability will diminish and we will no longer be tempted to fork out $8+ ($10 at my LYS*) for a ball of icky yarn.
Rogue
is finished. Rainy weather and a lack of a photographer are preventing me from posting a complete finished object photo and report. Stay tuned.
See the
Knitting Olympics
button on the sidebar? Keeping up with my not-a-joiner attitude, I didn't get suckered in to participating in the events that seem to be designed to make knitting stressful. However, perhaps these Olympics will be a good thing for the knitting world. The participating knitters appear to be challenging themselves, which is important for one to become a better knitter. But because I'm always on the lookout for knitting challenges, the Knitting Olympics didn't appeal to me. And I'm not a joiner.
*Thankfully, I didn't purchase this yarn and I'm not keeping the thing I'm knitting either.