In the
Lorax by Dr. Seuss
, The Once-ler and his family knit thneeds from the tops of truffula trees. Thneeds, as you may recall, were oddly-shaped, multi-purpose. . .uh. . .things. Like snowflakes, no two thneeds were the same. As a child (and even now) I imagined that thneeds were knitted sweaters or jumpsuits that had a few extra sleeves. Behold the makings of a thneed!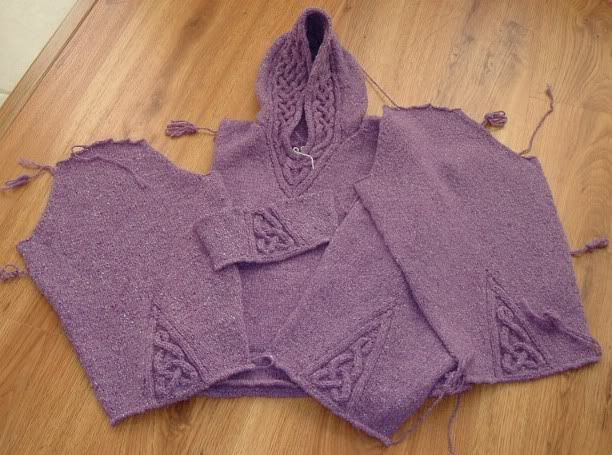 One body with hood and 3.2-ish sleeves. Should I attempt to find places to attach the extra pieces? (Why did I ask that? Someone is bound to say yes.)
Yes, I finished knitting Rogue for the second time and I still don't have a complete sweater to show for all that work. The super terrific, wonderful, amazing people at
Chester Farms
really came through for me. Not only did they manage to locate yarn from the same dye lot, they made sure that it perfectly matched the sample that I sent. Then, they sent me enough yarn to reknit the discolored bits for free. FREE! No charge on the yarn or the shipping! And a note of apology, too. Let me shout it from the highest overpass in Houston, "The purveyors of the machine washable purple sheepies are the best!"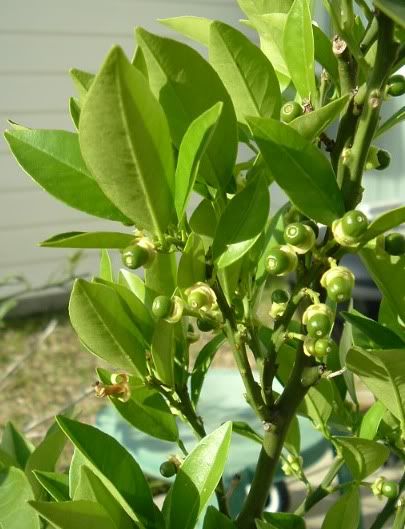 I'd better get cracking on seaming Rogue/Thneed together. The weather is supposed to be cold this weekend. It may be the last chance I have to wear a sweater before next winter. My orange tree thinks that it is already spring. (Click that photo to get a better look at the little oranges.)