I finally did something significant! I finished the hood of Rogue. I even grafted the cables at the top instead of cheating and doing a 3-needle bind off. I'm
very, very
bad at grafting. My typical grafting process: Find several different grafting instructions. Pick one set of instructions. Start grafting. Pull out. Start grafting. Pull out. Grab second set of instructions. Start grafting. Pull out. Start grafting. Pull out. Throw second set of directions across the room. Pick up third set of directions. Start grafting. Pull out. Start grafting. Pull out. Get second set of instructions from across the room. Spread all three sets of directions in front of me. Pick the one with the best pictures. Study pictures. Start grafting. Ignore mistakes. Keep going. Declare grafting done.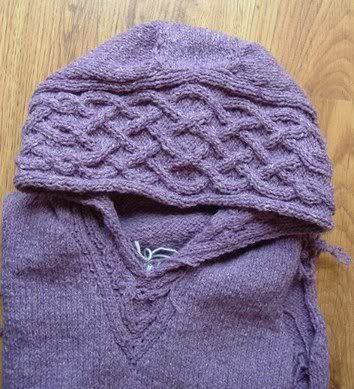 I tried to get a
cute photo of Scout in the hood
, but the photos didn't show the cables well. By the second photo shoot, Scout didn't want to sit patiently inside the hood any more.
I also cast on for the sleeves and allowed paranoia to attack me. I have just over two skeins of yarn to use for the sleeves. According to my calculations when I bought the yarn, I need only 6.19 skeins to finish the entire sweater. So, I ordered 7 skeins breaking my normal habit of always buying an extra ball/skein/hank. Now, of course, I'm convinced that I'm going to run out. Is 420+ yards enough for two sleeves? Brain says "yes." Panicky voice inside me says "heck no!"
Meme,
courtesy of
Helen
who just made the CUTEST kitty latch hook rug.
4 jobs that you have had in your lifetime
(in order, but leaving out many, many jobs)
* waitress and ice cream counter clerk at
Happy Joe's
* research associate and lab manager in a molecular biology lab
* camp counselor
* high school chemistry teacher
4 movies that you could watch over and over
* Singin' in the Rain
* Hoosiers
* E.T.
* any other movie that involves singing and dancing
4 places that you have lived
(in order, omitting most current places of residence)
* Hiawatha, Iowa (why I'm interested in knitting the
Song of Hiawatha Stole
)
* Williamstown, Massachusetts
* Oxford, England
* Chicago, Illinois
4 TV shows that you love to watch
* Lost
* The Amazing Race
* ??
* do re-runs count?
4 places that you have been on vacation
* The Philippines
* San Francisco
* all over Western Europe
* Jamaica
4 websites that you visit daily
* Gmail
* Knittyboard
* Bloglines
* Yahoo
4 of your favorite foods
* Butterkase (umlaut over that
a
)
* Plain chocolate Hob Nobs (the ones in the red container)
* Crab
* Pad Thai
4 places that you would rather be right now
* on a beach in the Caribbean
* someplace with fluffy white snow that I don't have to shovel or drive in
* in the mountains
* any place where Peter is
4 bloggers who you are tagging
*
Valerie
*
Mer
*
Amy
* anyone else who's interested!