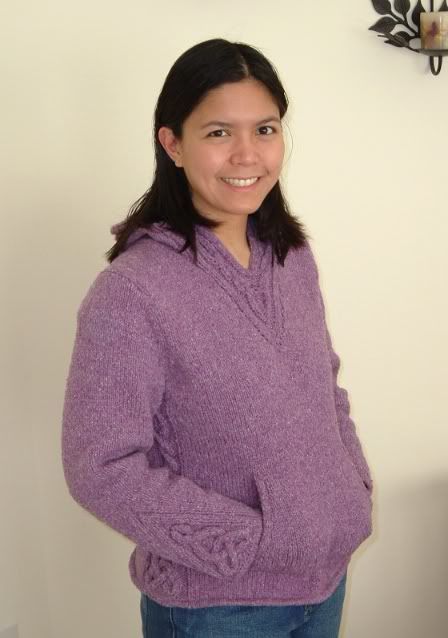 Pattern:
Rogue,
size 39"
Yarn:
Cestari 2-ply worsted
in lilac heather, 7 skeins (Hey! That's not pink!)
Needles:
US size 7
Modifications:1.
I didn't bind off for the back-neck. I just put the stitches on a holder and then knitted them when starting the hood (and decreased two stitches in the process). This modification gets rid of most of the seam on the back.
2.
I did a three-needle bind off for the shoulders.
3.
I didn't make the 2" facing on the hem or the cuff. I used a provisional cast-on and then followed the instructions in the
Rogue mods
for altering the hem.
Comments:
Everything has already been said about this pattern. It is wonderfully written, the charts are clear, and the little details and features are cleverly done. At first I was reluctant to jump on the Rogue-bandwagon, but now I'm glad that I did.
The traditional Rogue pose: