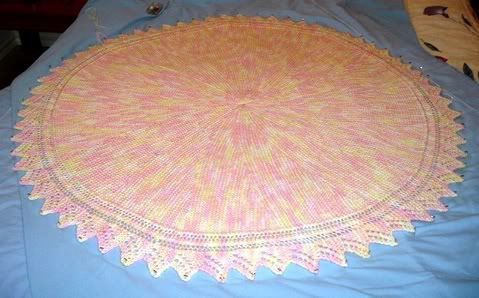 Pattern:
Pinwheel Afghan
by Oat Couture
Yarn:
Plymouth Encore Colorspun (75% acrylic, 25% wool) in color 7115, 5 balls
Needles:
US size 8
Final dimensions:
about 41" in diameter
Recipient:
Kelly baby #2
Notes:1.
Blocking makes the points lie flat, but I think they are destined to be curly. I'm not sure why. They are garter stitch so they should be flat. I think the points curl and stay curl after they are folded over when handling the blanket. They don't curl spontaneously. Perhaps a different mix of fibers would produce points that didn't stay curled after folding.
2.
I made
a mistake
and didn't correct it even though I probably should have. I was LIVID when I discovered that I had made the mistake. I wasn't mad about the mistake, I was mad at something completely different. But I couldn't concentrate enough to figure out what was wrong. So I kept going. Lesson learned: don't knit while you're mad.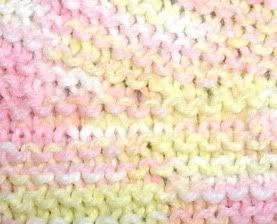 3.
I half grafted the seam by joining the live stitches of the last wedge to the cast on edge. I think the seam looks ok, but probably would have looked better if I had taken the time to do a provisional cast on and grafted the seam.
Overall a great pattern and a fun knit. I can definitely see more Pinwheels in my future. Perhaps I will try the multicolored version--but that version is not reversible.