Thank you for all your words of encouragement and support. I'll write my official letter of resignation next week and begin sorting through this crazy mess of an office that I have here. That should take most of my last month of employment.
And another big thanks to all who referred me to
Eunny's Steeking Chronicles
. I have skimmed through the articles, but will save doing a thorough read for when I actually embark on knitting Lotus. And thanks for all the votes of confidence on the fair isle, too. But please understand that I'm not worried about the actual knitting. After all, the
first thing I ever knit
was a fair isle sweater. It's the cutting that scares me. All my previous fair isle knitting were worked flat (fair isle purling--YUK!)
Answers:
Terby
asked how large the dayflower motifs were on the shawl. Using my highly inexact measuring method (hold up knitting and guess) I'd say that each flower is 1.5 inches tall and 1 inch wide. If you look at the photo in
this entry
you can see a smidgen of my blocking board. The grid on the blocking board has 1 x 1 inch squares. So you can guesstimate, too!
Tasha asked if I could do anything about the "saggy, baggy" shoulders on Lotus. (Sorry Tasha, I can't get your blog url to work for me.) I guess the answer is: Maybe if I really thought about it, but I'm not going to. The body of the sweater is knit as a straight tube, the armholes are cut into the sides, and the sleeves are sewn in. So it is a drop-shoulder sweater and those types of sweaters are often oversized and/or baggy in some places. I have no intention to mess around with modifying my first steeked sweater.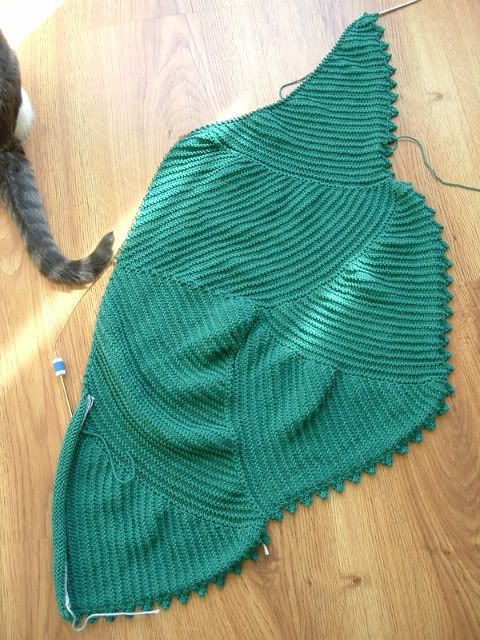 Meanwhile:
Curlicue continues to grow and is showing the expected puckering. (That's Elly's tail.) I have to admit that I was a bit disappointed with this pattern. With all the
hubbabaloo
about how horribly difficult it the blanket is to knit, I expected more of a challenge. But no, the pattern seems confusing when you first sit down to read it, but once you start knitting it make sense and is actually quite straight-forward. I rarely count stitches and I only count rows to find out how much farther I need to go. Click photo to make it bigger! (Look ma, I'm learning html!)