Ok, not the most pleasant title. But this wasn't the most exciting or enjoyable knitting experience. I just produced this thing without caring for it at all. It makes me resent the time I took to make it.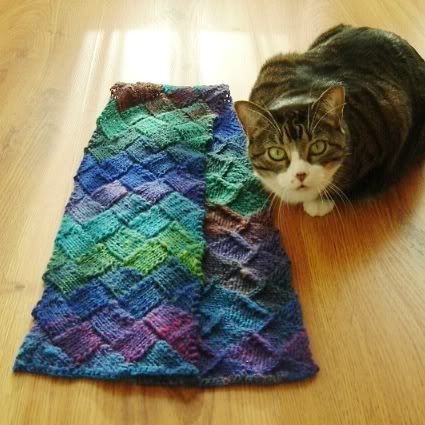 Pattern:
Noro scarflet, based on the Lady Eleanor pattern
Yarn:
Noro Kureyon (yuck) in color #40 (with yucky brown), two balls
Needles:
US size 8
Final Dimensions:
45 inches long, 7 inches wide after blocking
Cat:
Scout
Comments:
This is a sample I made for a entrelac class that I will be teaching at a LYS. I was tempted to stop at one ball because I hated it so much, but decided to continue. I didn't even bother to take a good photo of this thing. Click on the image for a slightly bigger view.
The following is NOT knitting barf:

Thanks for all the kind comments on Rogue!
I was overwhelmed by all the responses that I got. I wanted to answer them all, but life is getting in the way. Less time for knitting, even less time for blogging and playing on the computer.
I was also tickled by all the anti-Noro comments. If I were at all adept at graphical design, I would make a "Just Say No to Noro" button. But alas, I'm not so gifted and I don't have time to learn.