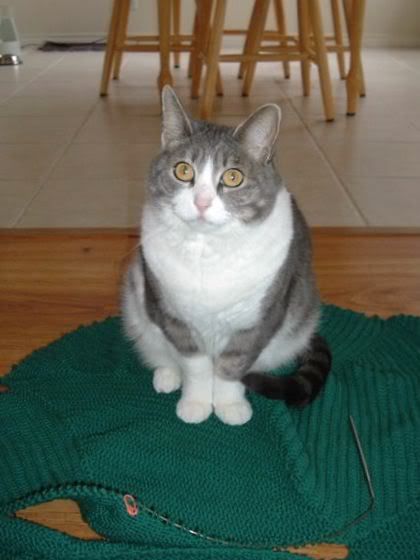 Last Friday was the 8th Ellyversary. Eight years ago, Elly came to live with Peter and me. Before Elly became a part of our family, Peter was a confirmed dog person. He only agreed to get a cat because we lived in an apartment that was too small for a dog. But Elly completely changed Peter's mind about cats.
We found Elly at the
Town Lake Animal Shelter
in Austin. When we first saw her, she was sitting in the back of her cage, trying to stay warm. But when I opened the cage, she came to greet us and happily allowed us to hold her. After seeing how loving she was, we quickly filled out the adoption papers, and Elly became our little Princess.
Peter go used to having a cat as quickly as Elly got used to having people worship her. At the time, Peter was a graduate student and I was working full time. So, Peter and Elly had lots of time to hang out together. They played games (fetch was their favorite), and Elly sat on Peter's lap or on his desk while he studied. Peter quickly learned that having a cat was like having a dog, only easier and better.
For the first few years that we had Elly, she would follow us from room to room. She didn't like staying in a room unless a person was present. Although she doesn't do that anymore, she is still very sweet, affectionate, and cooperative. She has never bitten or scratched a person (not even the vet!). She allows strange children to pet her for hours. When we need her to go into her cat carrier, we just put her in front of the door and she walks in a sits down. She does this despite the fact that nothing good ever happens when she goes into her carrier.
So Happy Ellyversary Princess Cat! I'm so happy that you are our #1 baby girl. And your sisters thank you for softening up Peter so that they could have a home, too.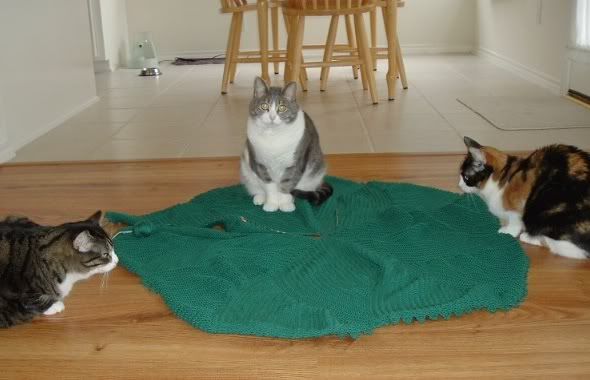 (Did you notice? I finished knitting Curlicue. Now I need a couple of uninterrupted hours to graft/seam the edges together.)