Ok, everything is NOT free, but some of the best stuff is free. Some great free stuff: sunshine, Knitty Patterns, advice and encouragement from fellow knitters, and fresh eggs!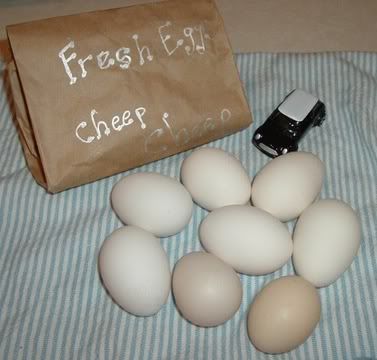 These are eggs are from
Monkee's chickens
. Monkee's mom gave them to me last night at the SnB. I poached three of them this morning and they were very, very tasty. The eggs are smaller than the eggs that I buy from the grocery store. I put the Matchbox Mini Cooper in the photo for scale. The Matchbox Mini (a gift from Monkee) is longer than a couple of the eggs. But we all know that smaller is better. (Says the short person who drives a Mini.) Thanks Monkee, Monkee's chickens, and Monkee's mother!
Cable-love
I love cables. Yet, I've never made a cabled sweater for myself until now. (Unless you count the Rebecca sweater, which I don't count because it doesn't have cables all over.) Knitting with Aurora 8 is so enjoyable and fast that I never want to put the project down. So, here's a week's worth of knitting. If I hadn't knit that baby hat or taken a road trip this weekend, I'd probably be done with the right front, too.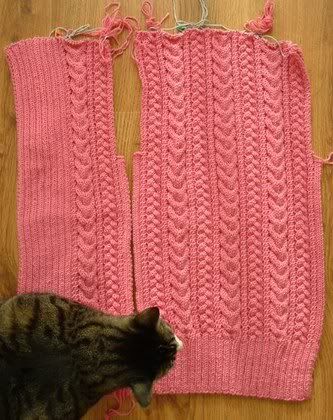 However . . . I discovered something about the pattern. More later.
BTW: My images are hosted on Photobucket and today Photobucket is
acting weird
. Sometimes I can't see any photos or even reach the Photobucket site. So, if you can't see my images, I'm sorry but there is nothing I can do. :(