If you ever want to see something funny, watch someone who has never knitted with straight needles try to learn how to use double-pointed needles. Prior to this weekend, all my small diameter projects were knit on two circulars or with the magic loop method. I avoided DPNs like the plague. But when I received several sets of DPN from
Mrs. Stranger
and I decided to face the scary porcupine and actually make something with DPNs.
I'm sure all you DPN-experts would have busted a gut laughing at me this weekend. I couldn't figure out how to hold the work with all those needles sticking out. I had to constantly check to make sure no stitches were inadvertently liberated from a needle. And I had a hard time keeping the needles in my hand. You see, when I get to the end of the row using circular needles, I usually drop the needle in my right hand and pass the needle in my left hand over. Well, as I soon discovered, when you drop a DPN--it actually drops! It falls down! It doesn't stay attached to your work like a circular needle does. Imagine that.
Anyway, to tie this comedy of errors in with the title of this entry, look what I made!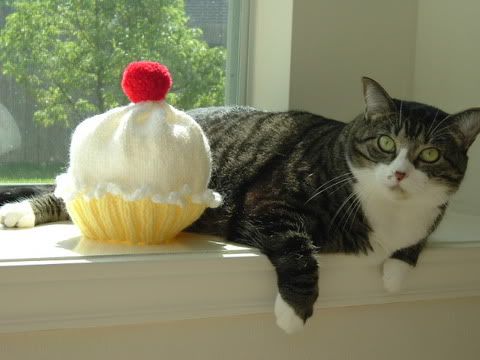 Pattern:
Cupcake hat
Yarn:
Lion Brand Wool Ease in pale yellow, sparkly white, and red
Needles:
US size 8 DPN
Cat:
Scout
Recipient:
My niece Eva
Lessons learned:
DPNs drop when you let go of them. Babies are great guinea pigs for trying new knitting techniques. Babies are small and they don't care if their clothes are a little odd or funny looking.
Speaking of gifts
I gave Rosa to my MIL this weekend. She LOVED it. It fit perfectly. Even the arms were long enough, which is apparently something that is often problematic for her. She thought the colors went well together. She got a kick out of the stripes on the sleeves. So, the sweater was a success even though I didn't like making it.