It's not really trouble, just another pattern oddity that I noticed when I was studying the photo of Grace. Before you ask: Yes, I did look for pattern errata before I started knitting. Debbie Bliss has not posted any corrections for this pattern despite the fact that there IS an obvious error in the pattern. According to the pattern, the collar is never attached to the back of the sweater.
There are two cable patterns on this sweater: a braid pattern and a horseshoe pattern. Now, look at the braids in the close-up photo of the shoulder. The braid on the sleeves is going in the opposite direction than the braid on the body!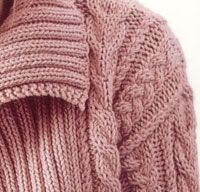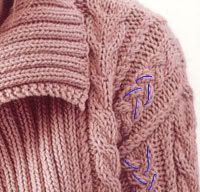 I read the pattern carefully and saw that the instructions have the braided cable going in the same direction on both the body panels and the sleeves. A quick check of
MJ's
and
Jenifer's
completed Graces confirmed this.
So here's the million dollar question: do I knit the sleeves according to the pattern or according to the photo? What do you think?
Photobucket news:
Apparently, the issue is NOT with Photobucket, but with some
big computer companies
. Photobucket is just an unfortunate victim. Don't blame Photobucket, they are doing their best to work around the petty bickering of some computer megacorporations. If you can't see my photos, please be patient. I hope a solution will come soon.