Did you know that in the editorial world the letters
TK
mean "to come?" So whenever you need to write something but don't want to be bothered with it at the moment you just write "blah blah blah TK." Don't ask me why the abbreviation isn't TC. The only possible explanation that I've come up with is that TC used to stand for something else.
But I digress, this is supposed to be about knitting. So, on to the good stuff. First, I received more loot: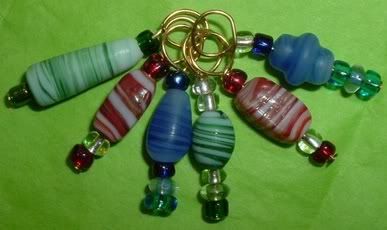 Pretty stitch markers in a surprise package from
Helen
! Thank you so much Helen, they are the most attractive stitch markers that I own. Now I don't have to stare enviously at Monkee's stitch markers.
Second, I finished all the knitting on Grace. I finished it all in two weeks! (Oh okay, two weeks and one day.) I'm deep into seaming mode right now.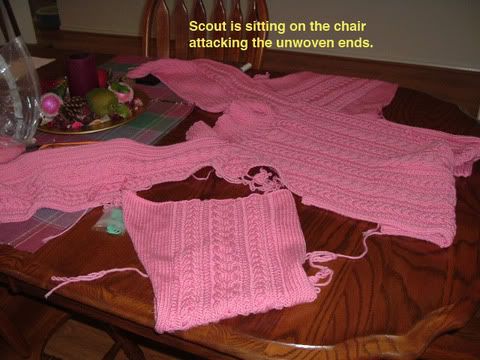 Thank goodness Peter and I decided to buy a mostly useless dining room table to fill up our mostly unused dining room. Who knew that it would become the best place to finish sweaters? The dining room is now used more for knitting projects than it is for eating. The whole sweater should be complete in a few days. Now it just needs to get cold here. (Wishful thinking.)
Finally, I got a knitting commission! I'm going to be knitting a ribbed tank top using ggh Goa. Goa appears to be bulky weight Bali. I'm kinda bummed that my customer picked a cotton blend because I'm getting tried of working with cotton. She also picked black--ugh. But hey! I'm getting paid! I can't argue with that.