I've been so negligent at answering questions and responding to comments, so here's a bunch of answers.
About the Cupcake hat:
Joanna
said: I can't believe your first dpn attempt involved ribbing and ruffles.
Well, I've never been known do anything the easy way if I know of a much more interesting way. Fearless knitting is much more fun.

Stephanie
said: The story of you dropping your dpn's combined with the picture of the cat reminded me of when I got my first puppy. I had only ever had cats in my life. When you are done holding a cat you can pretty much just let go. It lands gently on all fours and then strolls away. Puppies - yeah not so much. Poor puppy! Survived with no injuries thank goodness!
Uhh... I did that, too. With my friend's puppy. I have a problem with dropping things.
About Grace:
Christina
asked: I have yet to knit with Aurora 8. What is it you like so much about this yarn?
The yarn is very soft and not a bit scratchy like some wools are. It's very light and springy so it's easy to knit with. It also has great stitch definition, holds cables and ribbing well, and it isn't very splitty despite being made up of eight plys. Plus, my yarn is pink. Really pink.
About the eggs:
Agnes
said: Wow ... those eggs are HUGE!
No, not really.
Here's a
better comparison photo
that I took right before eating the last of the eggs. It shows a store-bought egg, a quarter, and one of my fresh (and now eaten) eggs.
I promised you loot. Here it is: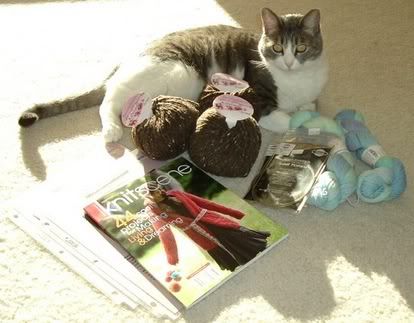 Sorry it's a bit washed out. I wanted to get Elly in the photo and when I want to take a photo of Elly, it is easier to bring the props to Elly than it is to bring Elly to the props. I have
two
Oat Couture
patterns, the new issue of
Knitscene
(which isn't terribly exciting), three balls of
Kathmandu Aran
for a Dad hat, two Addis, and two hanks of
Lorna's Laces Shepherd Sock
yarn for *gasp* socks.
Grace update:
I finished the right front of Grace and cast on for the sleeves. As usual, I'm doing both at the same time. I decided to make the cables go the same way as the cables on the body. I decided to do it this way, not because it was easier, but because I would be annoyed to have cables going two different ways. However, if I had noticed the cable issue before I was halfway finished with the back, I would have inverted all the cables because I like the look of the braid going in the other direction better.