I'm finally starting
Moni
. I bought the yarn for it in March and it has just been taunting me while I worked on Candace, the baby blanket, and the X-back tank. I decided to do Moni because I wanted to practice my fair-isle technique and I wanted to make a summer sweater. The fact that it is done on size 2 needles is just an added
annoyance
bonus.
The yarn for Moni is 100% cotton. And as anyone who has knit with cotton knows, it doesn't behave in the same way that wool does. For example, ribbing in cotton yarn doesn't pull in nicely as ribbing in wool yarn does. Cotton ribbing just hangs there like stockinette with texture. To counteract this cotton-yarn problem, I bought this: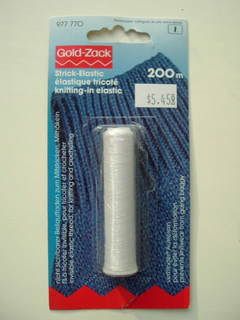 It is invisible elastic thread and it is suppose to give ribbing more pull/stretch. To use it, you carry it along with your yarn, knitting as you would do when you are knitting with two strands of yarn held together. Using the invisible elastic thread is a bit of a challenge. For one thing, it is difficult to see (you might even call it
invisible
). Secondly, it is very thin (similar to a thread). So, I had to be careful and watch what I was doing because I often missed the thread while I was poking my needle through stitches.
So, here's the back of Moni in progress. Don't you think the ribbing looks nice and tight? Just as nice as wool ribbing. I'm so pleased with how well the elastic thread worked. The
fair-isle
part looks good, too (at least that's what I keep telling myself so that I don't rip it out and redo it).